Mark Wahlberg: Leonardo DiCaprio didn't want me in 'Basketball Diaries'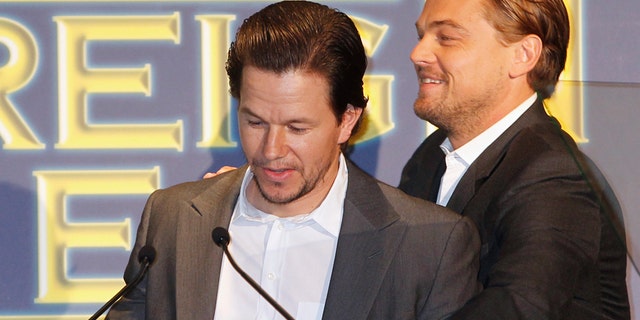 Picture it. It's 1994. You're Leonardo DiCaprio. You've just made the leap from your successful stint on television's popular family sitcom "Growing Pains" to film with noteworthy turns in "This Boy's Life" with Robert De Niro and "What's Eating Gilbert Grape" with Johnny Depp. Now you're being told your next film will co-star that pant-drooping, often shirtless, always swaggering rap star/underwear model Marky Mark. You might not be happy. DiCaprio certainly wasn't. And Mark Wahlberg knows it.
While doing the press rounds for his upcoming effort "The Gambler," Mark Wahlberg looked back on his time making the 1995 biopic, "The Basketball Diaries." Based on the Jim Carroll memoir, the film starred Leonardo DiCaprio as a tough New York kid with the heart of a poet. But when the critically acclaimed ingendude found out Wahlberg was up for a supporting role, he wasn't having it.
Mark Wahlberg Will Star In, Rename 'The Six Million Dollar Man'
"Leonardo said, 'No way, I'm not making a movie with Marky Mark.'" Mark Wahlberg said at the AFI Fest Monday night, according to Variety, "As did a lot of other people."
Part of the problem may have been that DiCaprio didn't want to share screen time with a green actor like Wahlberg, who'd made his film debut in 1994's "The Renaissance Man," which hadn't come out yet. But Wahlberg pinpoints Leonardo DiCaprio's animosity towards him to a very particular and literal run-in.
He explained, "We had a weird run in at an MTV Rock and Jock basketball game. I was performing in my underwear at half time and I think I had blocked a shot of his. I was a punk. I was a prick. I was not nice to Leo that day.
Christian Bale Just Left The Steve Jobs Biopic, Here's Why
Luckily for Mark Wahlberg, "The Basketball Diaries" director Scott Kalvert wasn't caving to his young star's pressure. Kalvert thought Wahlberg had promise as an actor. So, after a string of strong auditions, Kalvert called him in to read with DiCaprio. But this fateful meeting didn't start off great.
"Of course I show up eight hours late, by accident. I was in New York and there was a huge snowstorm, so I went to Puerto Rico for the weekend with my entourage. Coming home, my flight gets canceled, I show up late, he's sitting there, pissed."
But Wahlberg wasn't impressed with DiCaprio either. "He wasn't a New York street guy basketball player. I was like, 'I've seen this dude play ball!' So we both had a bit of chip on our shoulder," he recalled. Things took a turn when the two twentysomethings put their egos aside and actually began digging into the script. "But we started reading the scenes -- and I looked at him and he looked at me -- and I was like, 'Oh shit. This guy is good.'"
The Gambler Trailer Boasts A Skinny Mark Wahlberg And Tons Of John Goodman F-Bombs
About a decade later, the two would reteam to bolster the ensemble of Martin Scorsese's Boston-set gangster drama "The Departed." So the hatchet? It has been buried.