Mariah Carey Embarrasses Herself On Stage, Refuses to Turn 41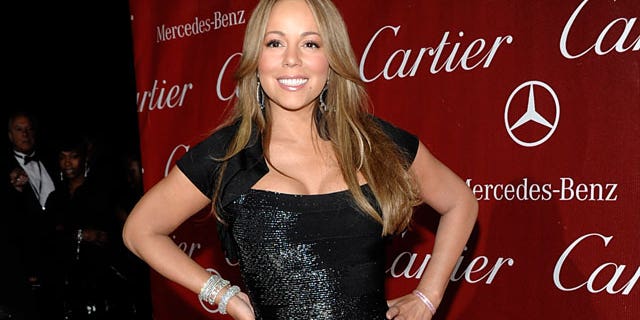 LOS ANGELES – Mariah Carey is certainly no stranger to the stage - but all those years of experience still didn't stop her from making a fun fool of herself at the Palm Springs Film Festival's Gala Dinner on Tuesday where she was being honored for her "breakthrough" acting performance in the Lee Daniels drama "Precious."
Early in the evening, Pop Tarts spotted the songstress walking around a back hall with Daniels holding her up – however Carey wasn't ashamed to later admit she was, well, a little worse for wear and had too much of ... something.
"Please forgive me because I'm a little bit... yeah (laughs) oh my goodness," she rambled while accepting the honor and going on and on about being called a "kitten" and a "Queen to Diva" (among other nonsensical things) before eventually thanking the flabbergasted audience for listening to her "spiel."
SLIDESHOW: The Palm Springs Award Show Red Carpet
(Mind you, hubby Nick Cannon was also scheduled to attend the classy event but was suddenly a no show on the night.)
Sean Penn was next to take the stage after Carey and immediately seized the opportunity to spark some laughs at the pop princess's expense.
"I plan to do this (presenting an award) in absolute sobriety, forgive me if I squeak," Penn said.
Even writer/director Diablo Cody couldn't help but take to her Twitter account to express her amusement.
"Mariah Carey just gave the most awesome acceptance speech," Cody tweeted."Someone else will probably describe it better than I can. Wow."
Perhaps the "Butterfly" beauty is just clinging to her youth - after all, Carey told Tarts before the show that she refuses to acknowledge turning 41 this March.
"I don't have birthdays, I have anniversaries," Carey explained. "So that's the really interesting thing because people ask me what is the secret for eternal youth, this guy asked me the other day. I said, 'just pretend you're 12.'"
And although she also said that "dressing down" and going makeup-free for her critically-acclaimed role as a social worker in "Precious" was very "humbling," apparently our favorite diva did do all she could to have the "character description" changed to something a little more pleasing to the eye.
"She tried, she's [going to] kill it for me too. I can't believe I just busted it for her," Daniels told us. "She did not want the hair dyed, then she wanted blush, lipstick. I gave her a little nail polish but that's it. She was a wreck. I put her in rayon and polyester and her little hands were shaking. What's that about? Mariah get over yourself."