'Mamma Mia!' star Cher teases Amanda Seyfried 'dodged a bullet' with ex Dominic Cooper
Cher made quite a first impression when meeting "Mamma Mia! Here We Go Again" costar Dominic Cooper on the set of the movie musical.
"She took one look at me and didn't trust me at all — and told me so herself, which I laughed out loud at," the English actor told Vanity Fair Thursday.
The 40-year-old also claims the songstress made a crack about his former relationship with Amanda Seyfried. Cooper and Seyfried played a couple in the 2008 original flick "Mamma Mia!" and dated in real life for three years, splitting up in 2011.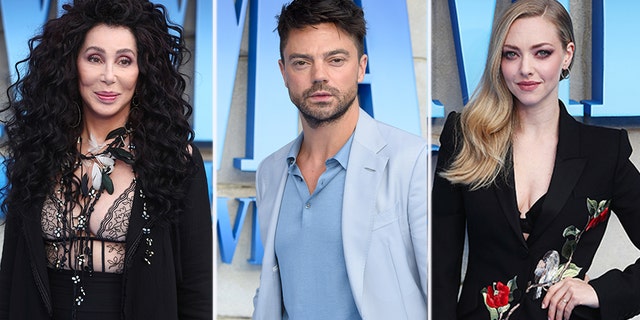 "After Amanda made it clear that we used to, once upon a time, be together, Cher said [to Seyfried], 'You dodged a bullet there,'" Cooper shared.
But he took it in stride, calling it "very funny."
BRITNEY SPEARS' BOYFRIEND SAM ASGHARI OPENS UP ABOUT 100-POUND WEIGHT-LOSS TRANSFORMATION
"She said it as a joke, but she thinks she knows me very well, the type of person I am," Cooper explained. "She's so funny. She's a really wonderful person to be around."
As for teaming up with Seyfried again, he called the experience "very easy."
"I've been in contact with her," he continued. "So it was like working with a friend. And I think working with a friend is always fun. They're very honest with you. You're not having to prove anything. It's open, and it's actually very, very, very easy."
Cooper admitted several people have inquired about the arrangement, asking him if it's "awkward" or "weird" to work with his ex.
"It wasn't. I'm sure there was a moment of trepidation about it, or thinking, 'What will it be like?' But, there wasn't any," he said.
The actress, he added, "knows my family really well, and she's good friends with them. She was in London, so she saw people that I knew, that we had met together. . . . She's got a child and a lovely husband now. And they were there. It was all really, really great. It seems to be fine."
'MAMMA MIA' STAR AMANDA SEYFRIED REVEALS HUSBAND'S 'ISSUES' WITH HER WORKING ALONGSIDE EX DOMINIC COOPER
Cooper may have played it cool, but Seyfried's husband certainly didn't.
Seyfried revealed Sunday her husband, Thomas Sadoski, had some reservations about the 32-year-old actress starring alongside her ex-boyfriend.
"I think he has the same kind of issues that I would have if we were hanging out with his ex-girlfriend from long ago," she told The Mirror. "I think it's always like, 'I'm so in love with this person, so that person must be so in love with her too.'"
The actress confided, "I assume everyone's in love with Tommy because I'm in love with him. I assume that everybody sees him the way I do. I'd guess he assumed Dominic is in love with me the way he's in love with me."
However, she declared, that's "just not the case." Though Seyfried admitted she preferred her husband "be jealous than completely fine with it."
"He's been great," she added. "He's very supportive and he loves this movie, and [he and Dominic] got along absolutely fine when we were shooting."