Mac Miller mourned by Post Malone, Chance the Rapper and other stars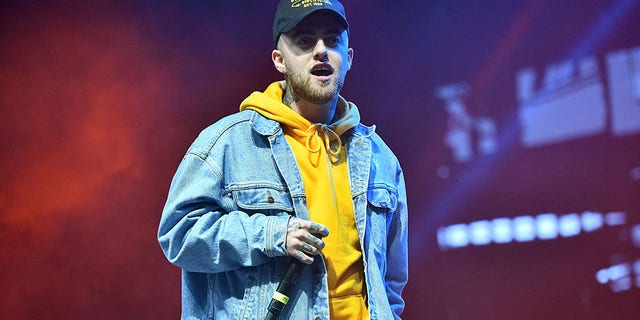 Mac Miller was praised for having a "great soul" and being one of the "sweetest guys" to celebrity friends who knew him after word spread Friday about the 26-year-old rapper's death.
Miller's family confirmed the news in a statement obtained by Rolling Stone: "Malcolm McCormick, known and adored by fans as Mac Miller, has tragically passed away at the age of 26."
"He was a bright light in this world for his family, friends and fans," the statement continued. "Thank you for your prayers. Please respect our privacy. There are no further details as to the cause of his death at this time."
Miller died of an apparent overdose inside his California home, the Los Angeles Times reported, citing sources. Friends of the rapper called the news "unreal" and shared their condolences with his family.
Chance the Rapper said he was speechless after learning about Miller's death and recalled a time the young rapper essentially took him under his wing.
"I dont know what to say Mac Miller took me on my second tour ever. But beyond helping me launch my career he was one of the sweetest guys I ever knew. Great man. I loved him for real. Im completely broken. God bless him," the Chicago-born rapper tweeted.
Chance reminded fans to tell those closest to you that you love them.
Hours after being involved in a bad car accident in California, "Rockstar" singer Post Malone took time to mourn the loss of his friend.
"You were such an incredible person. You changed so many lives. Had so much love in your heart. You inspired me throughout highschool, and I wouldn't be where I was today without you. Never a more kind and sincere and beautiful person. I f---ing love you mac," he shared online.
Singer Shawn Mendes called Miller's death "so sad."
"Catfish" star Nev Schulman recalled meeting Miller back in 2012.
"Super sweet guy. So many lives lost to mental health and addiction. Please reach out for help if you or someone you know is struggling. There are people here for you," he tweeted.
The Chainsmokers, EDM-pop duo Andrew Taggart and Alex Pall, admitted they never met Miller personally but said they were "huge fans" of his music.
"Our prayers go out to his family and friends. And for those struggling with addiction or know someone who is, please seek help you are not alone these things don't just get better," the group posted on Twitter.
"Late Late Show" James Corden agreed, saying he was always a big fan of Miller's "spirit."
Wiz Khalifa sent well wishes to Miller's family.
"Praying for Mac's family and that he rest easy," the rapper tweeted.
Khalid couldn't believe the news, which he said "hurt [his] heart."
"Love you bro," he tweeted, along with a picture of himself and Miller shaking hands backstage.
J. Cole wished Miller peace and called him a "great soul."
Read on for other reactions to the star's death.
Fox News' Elizabeth Zwirz contributed to this report.