Luke Bryan, Florida Georgia Line win big at American Country Awards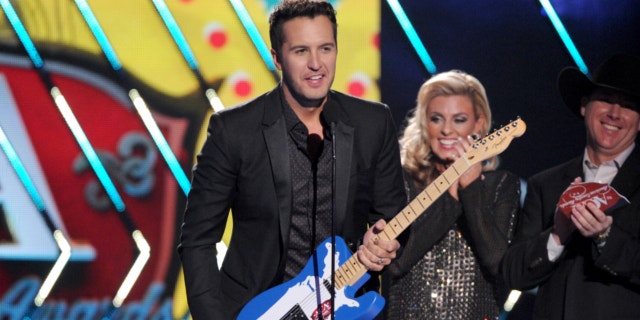 The fans of country music love Luke Bryan and Florida Georgia Line and they proved it again Tuesday during the American Country Awards.
Bryan was named artist of the year and Florida Georgia Line was the top winner, with six trophies, including new artist and single of the year for the "Cruise" remix with Nelly.
Blake Shelton was next with four awards, including album of the year for "Based on a True Story ... ."
The "Highway Don't Care" team-up of Tim McGraw, Taylor Swift and Keith Urban continued to rake in trophies, winning three, including song of the year. Bryan also won touring artist of the year along with the night's top honor, and his three wins give him 12 ACA awards in the show's four-year history. The win comes about eight months after the Academy of Country Music also gave him its top award.
"It's been the most amazing year of my life," Bryan said. "It started amazingly and it's ending amazingly."
The fan-voted awards show highlighted a split between everyday listeners and the music industry when it comes to Bryan, Florida Georgia Line and the popularity of the so-called bro country movement. Bryan and FGL, the duo of Tyler Hubbard and Brian Kelley, are the year's top male country music acts. Bryan has the top-selling country album released in 2013 and FGL set a record for weeks atop the country singles chart. Both were left off the Grammy Awards nomination last week, however, and have been at the center of the debate over modern mainstream country.
NASCAR driver Danica Patrick co-hosted the Fox broadcast with Trace Adkins, cramming her gargantuan colleague into a tiny smart car in an opening skit that included an Elvis impersonator and handcuffs. She later appeared in a line of showgirls clad in sequins and flowing orange and pink plumage before making fun of the size of her own breasts by assuring fans there'd be no wardrobe malfunction. A short time later Adkins showed up in the showgirl outfit, providing the night's most jarring moment.
Lady Antebellum opened the show at the MGM Grand in Las Vegas, with the trio's Hillary Scott, Dave Haywood and Charles Kelley making their way through a glow stick-waving crowd as they sang "Compass." Jake Owen invited ZZ Top's Billy Gibbons to join him on "Days of Gold" and former rockers Sheryl Crow and Darius Rucker teamed up on a medley of hits, including Rucker's "Wagon Wheel." LeAnn Rimes paid tribute to Patsy Cline with a medley of the star's hits, including "Crazy."
Taylor Swift, the night's top nominee with eight, won the worldwide touring award and gave an acceptance speech taped, appropriately enough, in Australia where she's on tour. Female artist of the year Miranda Lambert also was a multiple winner with two awards and Brad Paisley was presented with the ACAs Video Vanguard Award.