Kristen Bell saves 'Frozen' co-star Josh Gad's family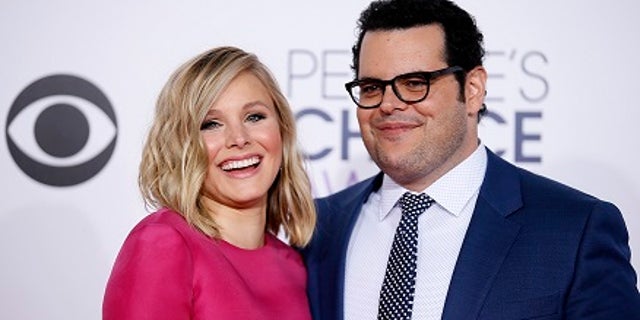 Josh Gad thinks some people are worth melting over.
The "Frozen" star said that his co-star, Kristen Bell, saved his family from Hurricane Irma by securing them a room at her hotel in Orlando, Fla.
Gad, 36, praised Bell, 37, on Twitter Friday evening for helping his family before powerful Hurricane Irma roared into the state.
BEYONCE SHEDS TEARS AS SHE VISITS VICTIMS FROM HARVEY
"So @kristenanniebell literally saved my parents and my entire family tonight from #hurricaneirma. When they were stranded in Florida, she got them a hotel room at her hotel in Orlando and saved them, my brothers, my sister-in-law and niece and nephew," the Florida native wrote on Instagram along with a selfie of Bell with his parents.
Gad's family were unable to evacuate and were running into problems over where to stay.
Bell, the "Veronica Mars" actress, is hunkered down in Orlando filming her upcoming movie "Like Father." She posted a photo on Instagram Friday of her and an unidentified male at Target getting some supplies before the hurricane.
HURRICANE IRMA, HARVEY ARE NATURE'S 'WRATH' FOR TRUMP VICTORY, JENNIFER LAWRENCE CLAIMS
"Last run to the store for #irma hurricane holdover prep while bracing down in orlando- we didn't have the option to leave so here we are. Just doing our best and trying to stay positive but cautious, and trying to help those who need help prepping. Every person i passed today was assisting someone else- #neighborshelpingneighbors - it was beautiful to see. Sad that a hurricane has to bring out the best in everyone- but happy that the community will be holding hands through this. Im grateful to Gary and the team at @swandolphin in epcot for helping us feel safe while we get through this together," Bell wrote.
Florida Gov. Rick Scott described the Category 3 hurricane as "the state's most catastrophic ever" and has urged about 6.3 million people to evacuate. The storm was expected to make landfall sometime Sunday.