Kim Kardashian gets 'vampire facial' on 'Kourtney and Kim Take Miami'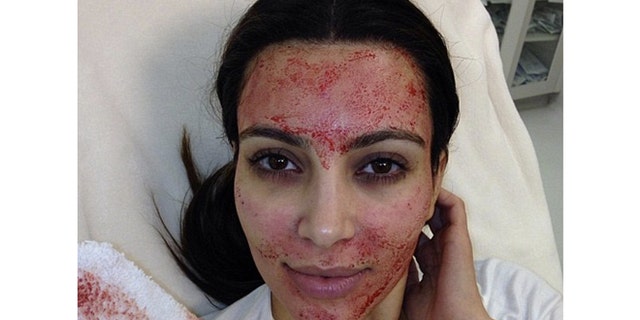 Kim Kardashian's face was left dripping with blood as she underwent an agonizing new beauty treatment on "Kourtney and Kim Take Miami."
The blood facial (also called the "vampire facial") process involves medics taking blood from the arm, before separating the platelets, and then injecting it into the face.
MORE: Kim Kardashian's bloody facial, Kourtney's weight loss
Kim, who is expecting her first child with rapper boyfriend Kanye West, said beforehand: "I love trying anything that makes you look and feel youthful."
But we're not sure she loved it quite so much when doctors began using an instrument with nine tiny needles attached to inject her.
She was seen wailing: "Ow", before telling best pal Jonathan Cheban, who had gone along to hold her hand: "Oh my God. I will never get a facelift if it feels like that."
Click here for more on the Vampire Facial from The Sun.