Khloe Kardashian slams Chloe Grace Moretz amid Taylor Swift drama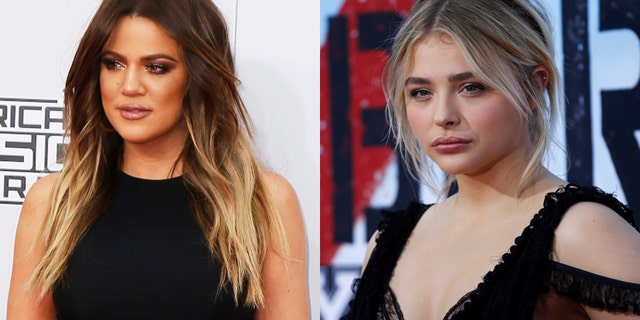 NEWYou can now listen to Fox News articles!
The Kardashians were taking no prisoners on Sunday night. Shortly after the family's reality show, "Keeping Up With the Kardashians," aired, all Internet hell broke loose. First Kim Kardashian posted Snapchat clips of her husband Kanye West's now-infamous phone conversation with Taylor Swift, in which he read the "Blank Space" singer the lyrics to his song "Famous," reportedly to get Swift's approval on the track.
Then Tay responded to the clips on social media, calling the recording "character assassination" and claiming that Kanye never played her the song and didn't tell her that he would refer to her as "that bitch."
MORE: Taylor Swift Responds to Kim Kardashian Leaking Her Phone Call With Kanye West: This Is 'Character Assassination'
Kim's sister, Khloe Kardashian, joined in to live-tweet the episode of "KUWTK" and praise Kim for her antics.
"I'm dying," she wrote. "Kim is a savage! Don't f--k with her man hunni #KUWTK."
Shortly after that drama played out, actress Chloe Grace Moretz, who previously dissed Kim for a nude selfie, took to Twitter, seemingly bashing the reality star yet again.
"Everyone in this industry needs to get their heads out of a hole and look around to realize what's ACTUALLY happening in the REAL world," the 19-year-old tweeted. "Stop wasting your voice on something so petulant and unimportant."
The Kardashians weren't willing to let that one slide, but this time it was Khloe who responded in a very NSFW way.
MORE: Kim Kardashian Shares Video of Kanye West Asking Taylor Swift's Permission for 'Famous' Shout-Out
"Is this the a hole you're referring to @ChloeGMoretz ???" Khloe tweeted, along with two photos. One featured Brooklyn Beckham's girlfriend in a red bikini top. The second shot depicted a blonde girl resembling Chloe getting a piggyback ride from an unseen male. In the image, the girl's bikini bottoms are accidentally pulled to the side, exposing her to the camera.
The crude image was later dispelled by Chloe, who tweeted, "@khloekardashian fact check: first photo is me filming my movie Neighbors 2, the second photo is some girl who was wrongfully photographed."
In fact, on the day the first photo was taken of Chloe, she was wearing blue bikini bottoms, not red as seen in the second image of the unidentified girl.