Kenny Chesney announces 'No Shoes Nation' tour with Zac Brown Band, Eric Church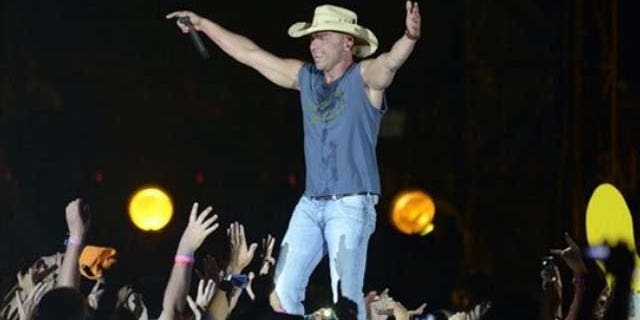 NEW YORK – Kenny Chesney had fans on the edge of their seats today when he promised a big 2013 tour announcement was coming soon.

The result? The country superstar sent his Twitter followers into a frenzy when he announced 17 tour dates for 2013 as part of his "No Shoes Nation" tour, which will kick off in Tampa, Fla.

The tour marks 20 years on the road for Chesney, who is pairing with the Zac Brown Band and Eric Church for several of the tour dates. Chesney's last album, 'Uncaged' debuted at No. 1 on the Billboard Top 200.

"I believe what we've created on the road is something special," Chesney wrote on his website. "The fans, myself, the band, the crew. But it's really the fans who have given us a wonderful, unique life. What we've all built together is the 'No Shoes Nation.' There is no better name for this tour."

"Super stoked after the announcement today that @EricChurch is joining KennyChesney next summer! Made my day!" one user wrote on Twitter.

The Eli Young Band, and Kacey Musgraves will also team up with Chesney for several shows.
The country singer has scheduled shows around the United States, including stops in Dallas, Seattle and Kansas City.
Still, even with 17 shows, many fans felt left out with their cities off the list.

"@KennyChesney Hope you add Chicago soon!!!!!," one user tweeted. Another chimed in with "Eric Church touring with @KennyChesney next year... Cincy better get added to that tour ASAP."

According to Chesney's official website, more shows will be added to the tour.

Sat. March 16 -- Tampa, FL
Sat. May 4 -- Columbia, SC
Sat. May 11 -- Dallas, TX
Sat. May 18 -- Milwaukee, WI
Sat. May 25 -- Landover, MD
Sat. June 1 Seattle, WA
Sat. June 8 -- Philadelphia, PA
Sat. June 15 -- Kansas City, MO
Sat. June 22 -- Pittsburgh, PA
Sat. June 29 -- Columbus, OH
Fri. July 12 -- Minneapolis, MN
Sat. July 20 -- Denver, CO
Sat. July 27 -- Anaheim, CA
Sat. Aug. 3 - Atlanta, GA
Sat. Aug. 10 -- East Rutherford, NJ
Sat. Aug .17 -- Detroit, MI
Sat. Aug. 24 -- Foxboro, MA