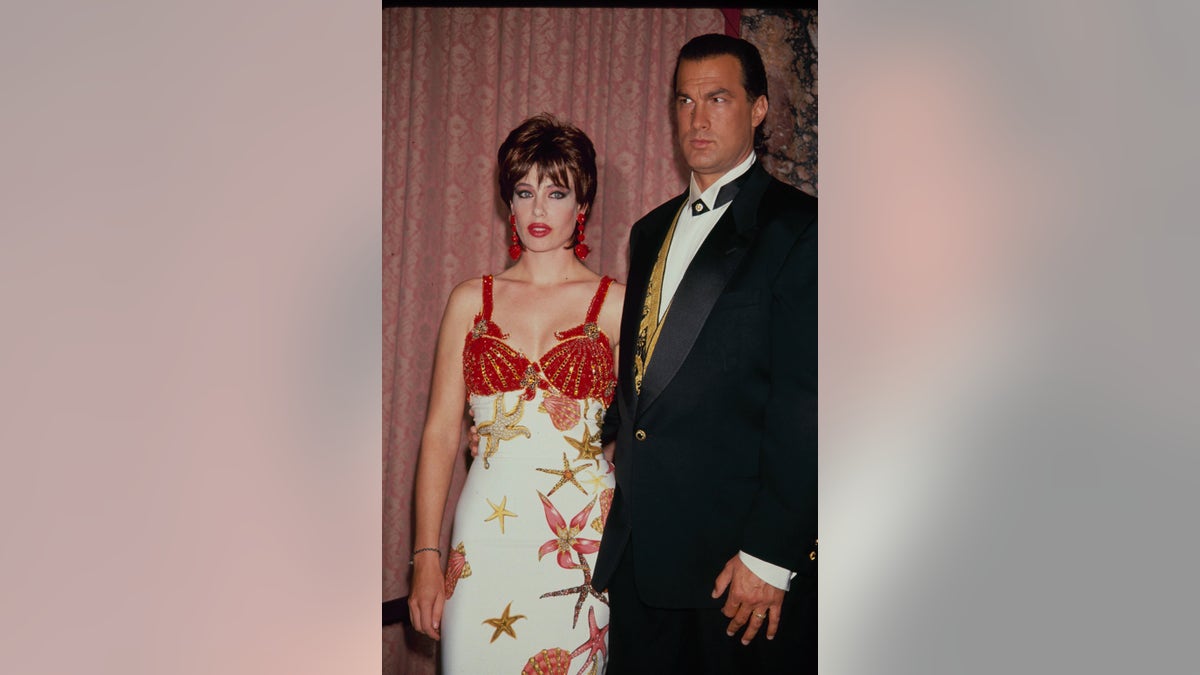 Kelly Le Brock doesn't regret leaving Hollywood behind for a normal life.
"I decided to quit Hollywood to raise my babies away from the limelight," the 57-year-old actress told Closer Weekly Thursday. "I didn't want them looking into any of the negative aspects of my divorce. So I ran for the hills, and I've basically been living in the wilderness [of southern California] with no TV for 24 years."
THEY DATED?! SURPRISING CELEBRITY HOOKUPS
Le Brock first shot to fame with her first film, 1984's "The Woman in Red." The "Weird Science" pinup also starred in 1990's "Hard to Kill" opposite action star Steven Seagal.
US Weekly previously reported Seagal started dating Le Brock while married to "Days of Our Lives" actress Adrienne La Russo. The pair married in 1987 and had three children together.
The marriage lasted for nearly 10 years until they split in 1996 after the actor had an affair with the couple's nanny, Arrissa Wolf. After the divorce, Le Brock became a "hermit" who ditched her old life in posh Beverly Hills for an isolated ranch as far away from cameras as possible in the countryside of Santa Ynez.
"I grow all my veggies and make my own cheese and yogurt," she previously told the celebrity news magazine in 2013. "It's bloody exhausting! To work the land full time keeps me so fit that I haven't worked out in seven years. I clean the pool myself, muck out the pigs and the horses."
She added, "I admit it. I became a hermit. I had absolutely no self-esteem. I hated myself… I feared everything and didn't want to leave the house."
Despite her public, tumultuous divorce, Le Brock told Closer Weekly her children (30-year-old Annaliza, 27-year-old Dominic, and 24-year-old Arissa) gave her hope to survive outside of the limelight.
"Becoming a mom gave me purpose, resilience, and a reason to get up in the morning," she said. "And sexiness comes from experience, not being young, so I feel sexier than ever!"
It even compelled Le Brock to participate in a reality TV series for Lifetime, titled "Growing Up Supermodel," which chronicles Arissa's journey in becoming a plus-size model.
"Well, when you get to my age, you grow some balls," she joked on returning to television. "When I was touted as a sex symbol and beautiful and blah, blah, blah, the irony is that I didn't feel it. Now that I'm more matured and wrinkled — I actually do have wrinkles! — I'm much more comfortable in my skin. I'm happy with who I am and where I am."
However, she added there has been no progress in developing a better relationship with her ex-husband, now 65, for the sake of their family.
"It's been really sad because it affects the children," she said. "But I've been married three times so far, and my attitude is, 'Never give up!'"