Katharine McPhee and David Foster's whirlwind May-December romance: A relationship timeline
David Foster may be twice Katharine McPhee's age, but the pair haven't let their 34-year age gap – or judgmental comments – get between them.
Some of Foster's children have even voiced their support for the happy couple, who announced their engagement in July. It will be the second and fifth marriages for the bride and groom, respectively.
"I know that some people have been hating that relationship," the record producer's daughter Amy, 44, told US Weekly weeks after the engagement. "All I can tell you is it absolutely works when you see them together."
DAVID FOSTER, KATHARINE MCPHEE 'ARE PERFECT FOR EACH OTHER,' RECORD PRODUCER'S DAUGHTER AMY SAYS
McPhee, 34, was also quick to defend her relationship with the 68-year-old record producer, telling fans in a tweet they should be "worrying more about registering to vote and midterm elections than who's marrying me."
The two have known each other for more than a decade. McPhee, then 22, first met Foster on the set of "American Idol" in 2006 when he was a guest mentor for contestants on the show.
Since then, the pair have collaborated on several live performances, including his 2008 PBS tribute concert "Hit Man: David Foster & Friends." Foster even performed at McPhee's first wedding to Nick Cokas in 2008. He played the piano as the singer performed Natalie Cole and Nat King Cole's hit "Unforgettable."
As the couple continues to be in the limelight, here's a look back at highlights from their whirlwind romance.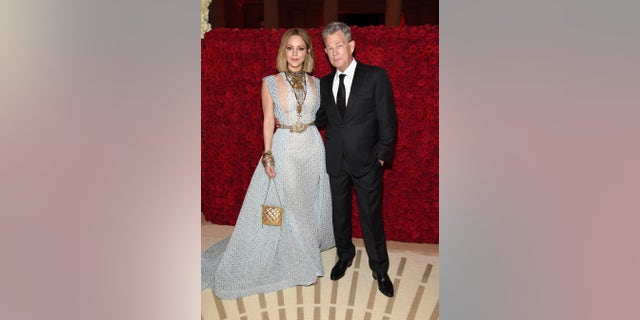 July 2018
A rep for McPhee confirmed the former "American Idol" star's engagement to Foster with Fox News.
The music producer popped the question during their European vacation.
KATHARINE MCPHEE TELLS DAVID FOSTER'S DAUGHTER ERIN THAT 'MOMMY AND DADDY NEED ALONE TIME'
While it's unknown exactly which day he proposed, TMZ claimed McPhee was flaunting her engagement ring while on the Italian island of Capri on July 1. She was also allegedly showing off her rock to family and friends via FaceTime.
McPhee later took to Instagram to dish about the magical engagement.
"He did it at the top of this mountain in Anacapri," McPhee explained, sharing a screenshot of a text message conversation she posted. "Totally dark, only stars."
"Thankfully, he didn't push me off the cliff," McPhee joked. "He said it was one or the other. And in the end he spared me."
On July 17, McPhee revealed the death of her father Daniel McPhee. The singer-actress said she would take a short break from her role on Broadway's "Waitress" to mourn the loss of her "sweet Papa." She posted a close-up of her engagement ring days later.
"My dad was so happy for me. My ring was the last thing I showed my dad before he passed and makes me smile when I look at this as a reminder of our last conversation. And now I'm ready to share with all of you what has been my sunshine amongst this painful loss," McPhee wrote on Instagram, while holding up her ring finger.
May 2018
Finally, after months of speculation, McPhee and Foster confirmed they were dating by stepping out onto the red carpet together at the Met Gala in New York City.
McPhee described the soiree as a "fun date night" to Entertainment Tonight.
April 2018
Foster shared his support of McPhee, as she began her journey on Broadway in April. McPhee snagged the role of Jenna in "Waitress."
"I think she's going to kill it. I think she's going to be the new belle of Broadway," he told People, though he still didn't confirm their relationship.
May 2017
The couple once again sparked relationship rumors as they dined together in Malibu.
December 2017
McPhee and Foster were spotted taking a stroll in Beverly Hills. After taking a break for lunch at an Italian restaurant, the pair were caught on camera sharing a sweet kiss, People reported at the time.
Weeks later, the day after Christmas, the couple was once again caught locking lips — this time, in Paris.
"They couldn't keep their hands off each other ... and immediately took a romantic walk through the rainy streets of Paris," a source told E! News, adding that they visited the Eiffel Tower and posed for pictures in front of the famous landmark.
November 2017
McPhee squashed rumors she was in any sort of relationship with Foster, adding they were just "very close friends," in an interview for Health magazine's December issue.
"I'm really, really fond of him, and I think he's an incredible person. I've known him since I was 21 years old, you know? He produced my first single. So he's been really good to me. People can say whatever they want," she told the publication.
September 2017
McPhee had nothing but praise for Foster while gushing about his special role in her life to Entertainment Tonight, though she didn't elaborate on the status of their relationship at the time.
"… I just pinch myself when I get to spend time with him on a personal level," McPhee said. "I love his outlook on life and how he treats people. He's really a special person in my life.
"What I've learned from him is how lucky we are to do what we do. He's always reminding me and it's comforting to know that it's people to walk through this life he's had – working with incredible people, being friends with ex-presidents and world leaders – and still have that perspective. He's so well-connected, but still just a simple guy from Canada with his little Canadian accent!"
Fox News' Stephanie Nolasco and Katherine Lam contributed to this report.