Kate Burton discusses dad Richard's romance with Elizabeth Taylor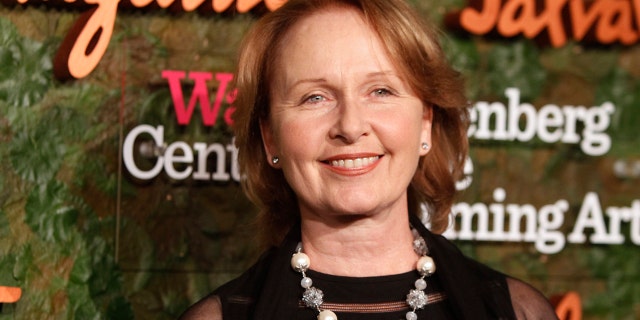 When your famous actor father falls in love with a movie star, maybe the best thing your mom can do is move away.
It worked for Kate Burton. When the Italian paparazzi descended on Richard Burton and Elizabeth Taylor in 1962, Sybil Burton decamped to Manhattan. Living near Central Park, surrounded by family friends, young Kate enjoyed "a fabled, but not tumultuous" childhood: She attended the United Nations International School, spent summers with her dad and stepmom and, in 1982, made her Broadway debut in "Present Laughter."
Thirty-five years and many TV shows later, "Grey's Anatomy" and "Scandal" among them, she's back in "Present Laughter." No longer the ingénue, she plays Kevin Kline's character's ex-wife. And while this new revival has brought her warm reviews, that 1982 production gave Kate something more: Michael Ritchie, the stage manager she met there and wed two years later.
That show also marked the first time Richard Burton saw his daughter act.
"He was very complimentary, but I was very nervous," Kate, 59, recalled over buttered bread and salad at Lincoln Center's Atlantic Grill. "I'd never invited him to see me at Brown or Yale [School of Drama], not because I wasn't proud of him, but because he was just so famous, there would have been a hullabaloo … My mother had seen me in everything. She was an extraordinary woman."
Nora Ephron thought so, too. Writing for The Post during the "Liz and Dick" years — a phrase that makes Kate wince ("It's Elizabeth and Richard!") — Ephron called the Sybil "the heroine of the stickiest mess in the history of sticky messes." A Welsh coal-miner's daughter, Sybil started the '60s nightclub Arthur, the precursor to Studio 54; married the house band's lead singer, Jordan Christopher, in 1966; and later co-founded Sag Harbor's Bay Street Theater.
"When I look back on my nearly 60 years on the planet, the person who was the most powerful in my life was my mother," says Kate, who has a son, 28, and daughter, 27. "Of course, my father was iconic, though anybody under 40 will not know who he was."
Kate was too young to have caught him in "Camelot," in 1960, but recalls that 1974 day he took over Broadway's "Equus."
"They put him on without telling anyone," she says. "They made an announcement: 'Today the role of Dr. Dysart will not be played by Anthony Perkins,' and the audience went, 'Ooohhh.' Then they said, 'It will be played by Richard Burton,' and they went nuts! He was one of the first stars to take over in a role created by someone else." (He repeated that role in the 1977 movie.)
His daughter has his green eyes, but not his Welsh baritone. "A couple of people can imitate it," Kate says, laughing. "Alec Baldwin's pretty good!"
She has warm memories of Taylor, with whom her father had the stormiest of romances. "She was an incredible lady. I got along wonderfully well with her, and I was very close to her children." She says all are active in the Elizabeth Taylor AIDS Foundation. "I truly think Elizabeth put attention to AIDS on the map. It's one of the things I'm very proud of her for."
Salad finished, Kate is ready to go. "I have to spring-clean my daughter's apartment," she says, and, with a flick of her Hermès scarf, she's off.
This article originally appeared in the New York Post.