Kanye West reportedly thrilled that Jay-Z will be his best man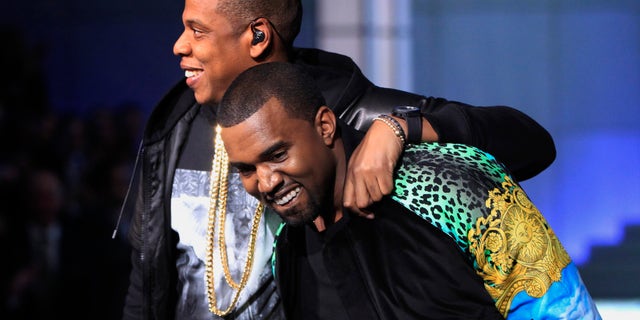 Kanye West is said to be thrilled that fellow rapper Jay-Z has agreed to be his best man when he weds Kim Kardashian. According to Radar Online, the "Empire State of Mind" rapper sent West a gold-plated, diamond-encrusted flask that had an inscription referring to himself as the "Best Man." The flask was accompanied by a $10,000 bottle of Scotch for Kanye to sip on his wedding day.
The "Bound 2" rapper is said to be ecstatic as earlier Jay-Z had reportedly refused to attend the nuptials, leaving West without a best man.
Kardashian has already confirmed that E! cameras will not capture the actual ceremony but will instead film around the event. Radar is reporting that Beyonce and Jay-Z are refusing to be filmed at all so there will be no footage of the pre-wedding dinner.
Reality star Kardashian is able to slither out of any filming by a reported clause in daughter Nori's contract which stipulates that she and West can nix any life moment she is a part of being filmed.
Us Weekly ran an image of the couple's surprisingly classy wedding invitation. The big day will be on May 24 in Paris.