Justin Timberlake's Super Bowl Halftime Show gets crowd fired up, pays tribute to Prince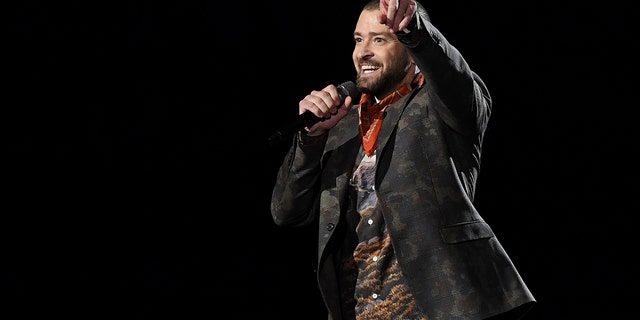 As always, spectacle, music and dance were the prominent features of the Pepsi Super Bowl Halftime Show, with Justin Timberlake singing some of his best hits and breaking a sweat giving it his all.
The show kicked off with an introduction by "The Tonight Show" host, Jimmy Fallon, as Timberlake performed his latest song "Filthy" in an intimate setting backstage. As he transitioned into "Rock Your Body" he made his way to the field accompanied by dozens of backup dancers on full display.
The star took the Pepsi Super Bowl Halftime Show stage for the first time since his infamous incident with Janet Jackson's "wardrobe malfunction" in 2004. There were many rumors that Timberlake would bring Jackson back, but the show ended up being a completely solo outing for the former N'SYNC band member. However, that doesn't mean he didn't get a little help.
Despite some audio issues, the 37-year-old singer paid homage to Minnesota native Prince, who died in 2016. The famed singer and guitarist was projected on a giant white screen in his signature purple light as Timberlake sang along to the song "I Would Die 4 U." This appeared to be a compromise after talk of a hologram of Prince, which his longtime collaborator Shelia E. took issue with.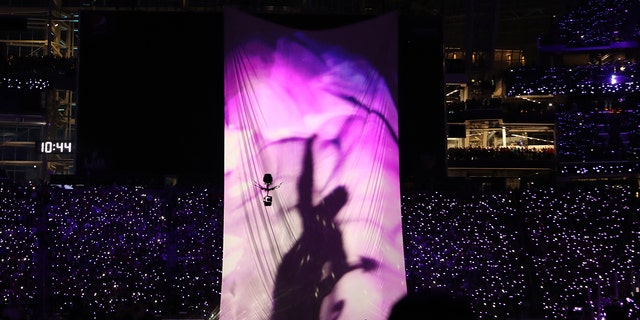 "Prince had told me ... don't let anybody do a hologram of him for religious reasons, so I just posted that if this happened it's kind of messed up and not cool," the Grammy-nominated performer said.
Still, some on social media were quick to note that Prince may not have enjoyed his portrayal alongside a singer he previously had beef with.
To honor #Prince would be to respect his wishes, not to capitalize off of him for your own name. #JustinTimberlake is disgusting," one Twitter user wrote.
Timberlake wasn't shy about getting the massive crowd involved with his Halftime Show, either. At one point, the star asked those in the stadium to light up the place by holding their cell phone lights up.
"Oh, you look so beautiful right now," he said during a break in the music.
As if that wasn't enough, he capped off the performance with a rendition of his hit "Can't Stop The Feeling" that saw him boldly run directly into the crowd to sing and dance along with them. He even took a moment to pose for a selfie with a young fan who seemed both thrilled and shocked to be so close to the performer.
Just after the show, reactions to Timberlake seemed mostly positive.
"So thankful for a clean family friendly Super Bowl Halftime Show," one viewer wrote. "Thank you @jtimberlake!!"
"Best Halftime Show EVER!! Justin Timberlake is such an amazing performer! #chills," another said.