Justin Bieber Wins AMA Artist of the Year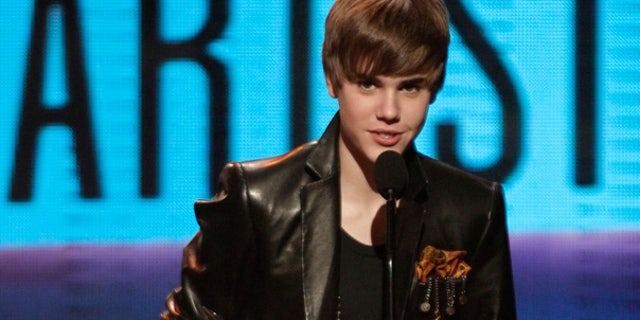 Justin Bieber's first American Music Awards was perfection.
The 16-year-old teen heartthrob went four-for-four on Sunday night, capturing every award he was nominated for, including the top award of the night, favorite artist. He beat a list that featured veterans Eminem and Usher as well as Katy Perry and Lady Gaga.
Bieber became the youngest person to ever win the trophy. Bieber also won favorite pop/rock album, favorite pop/rock male, and the show's breakthrough artist award.
"I can't stop smiling; this is amazing," Bieber said after he also beat Eminem and Usher for favorite pop/rock male. "Truly I don't know how this is possible because I've been singing Eminem since I was three and Usher is my mentor. So this is big."
Eminem, along with Lady Antebellum, had been the leading nominee with five awards. He didn't come up empty handed though, winning two, along with Usher, who also nabbed a pair. Lady Antebellum took home one.
Click here to see a complete list of winners.
Other winners included Black Eyed Peas and Taylor Swift, but Sunday's ceremony at the Nokia Theatre in Los Angeles was as much a showcase for acts with new albums as it was a celebration of the biggest achievers of 2010.
Rihanna, with her hair dyed a ruby red, gave the show a colorful and sexy start, performing a medley of songs from her just released album "Loud," including the No. 1 hit "What's My Name," wearing a bustier and what seemed like a scarf wrapped around her backside.
"This is amazing!" said an exuberant Rihanna, who danced onstage later to receive her award -- favorite soul/R&B female. She ended her speech by yelling, "Wassup! Thank you!"
The Black Eyed Peas, winners for favorite pop/rock band, gave a levitating performance, singing from boxes atop the stage during part of their performance of their new single, "The Time."
But some of the prime-time performances were given to acts who weren't nominated, but had albums to promote. Diddy's latest incarnation with the group Diddy-Dirty Money sang material from their upcoming album, while Kid Rock gave a stirring, acoustic performance of "Times Like These," his song lifting up his hometown of Detroit during its recent economic struggles, from his new CD, "Born Free."
A pregnant Pink was among the evening's performance highlights. Unlike recent performances marked by a high-wire act, she stayed close to the ground to perform her latest song, "Raise Your Glass," but thrilled nonetheless with a tightly choreographed, high-energy dance number.
Katy Perry had the evening's most explosive performance as pyrotechnics accentuated her performance of her latest song, "Firework."
Swift, last year's artist of the year, took home favorite country female. Sporting sleek blonde hair instead of her usual cascading curls, Swift said simply: "I just want to thank the fans."
Click here to see more of Taylor Swift at the AMAs.
Swift later performed her new single "Back to December," a song she also performed on the CMA Awards earlier in the month, but mixed things up by incorporating some of OneRepublic's "Too Late To Apologize."
Ke$ha, perhaps trying to make up for the absent Lady Gaga, had the night's most bizarre performance: She performed her heavily Auto-Tuned hit "Take It Off" looking like something out of space, with beams of light for eyes and sporting a motorcycle helmet. She then stripped down to a mirrored outfit, segueing into the next song with a pack of male dancers dressed like her, complete with blond wigs and fishnet stockings.