Joe Mantegna defends the Second Amendment, talks gun history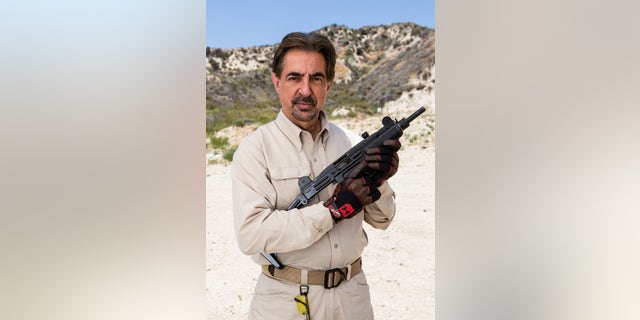 Joe Mantegna may be best-known in Hollywood for starring in everything from "Godfather Part lll" to "Criminal Minds," but even before he was a big shot on the silver screen the 66-year-old was competing in both pistol and shotgun competitions.
The devout firearms enthusiast is now loading up for his fourth season hosting the Outdoor Channel's "MidwayUSA's Gun Stories," which takes viewers through gun history – exploring classics like the Mauser bolt-action to top-notch firearms like the Adaptive Combat Rifle.
"We will be profiling what we consider fire arms that have an impact on the world – newsworthy historical significance. We do things from looking at the Walther PPK ('James Bond' gun) to the Teddy Roosevelt guns that he used in Africa. We cover sniper rifles and the cold pipe bomb," Mantegna told FOX411. "It's like wine. There is such a variance in firearms – different manufacturers, different models and different types. Even vintages if you want to call it that."
As for the future of firearms, Mantegna said the most crucial thing is that Americans don't compromise when it comes to their Second Amendment rights.
"It was much easier to buy a gun in the '50s when I was growing up, but kids were not going into schools and shooting each other. What changed? It wasn't the firearms laws, it was people," he continued. "The way kids are brought up and the way society is and the way our legal system is, that's what changed. If America is going to stay America, the First Amendment – freedom of speech – has to be supported, but so does the Second Amendment. There is a reason the Founding Fathers put it way up there at the top."
But Mantegna said his opinion on gun rights doesn't always go over well with his Hollywood peers.
"Like any community, there is going to be advocates of it and those disparaging of it. What I tend to try and fight is the hypocrisy of my industry," he continued. "On one hand, seeing people who won't hesitate to run billboards and posters with actors glorifying guns and portraying it in the most unsafe way possible in their movies, but taking a strong stance against it. That is what I do not appreciate."
"MidwayUSA's Gun Stories" premieres on the Outdoor Channel July 2, following Jim Shockey's adventure series "Uncharted."