Jodi Arias Begs Jury Not To Give Her The Death Penalty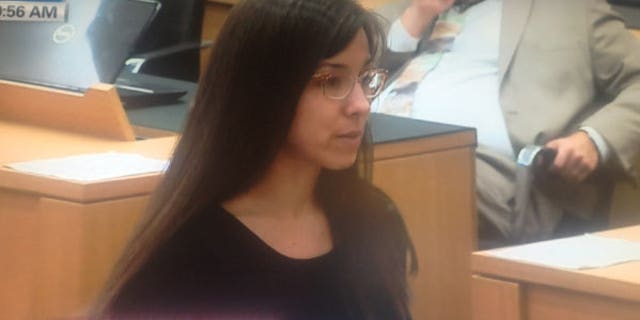 Jodi stood before the jury on May 21 and cried while giving a passionately pleading for life in prison, instead of the death penalty. Here's why she says she should live.
Jodi Arias does not want to be sentenced to the death penalty. She stood in front of the jury and tearfully admitted that brutally murdering her ex-boyfriend Travis Alexander in 2008 was the "worst mistake" of her life. This is far different from her statement on May 8 that she wanted death. During her emotional address, she stated: "I'll be sorry for the rest of my life" and added that she is "horrified" that she stabbed Travis 27 times, slashed his throat and shot him in the head.
Jodi Arias Begs For Life In Prison Not Death Penalty
Jodi is awaiting her sentencing for being found guilty of murder in the first degree. She admitted to killing her ex-boyfriend in 2008, after first denying having any involvement. She was found guilty on May 8 and now she is begging for her life to be sparred.
During her very emotional speech, Jodi told the courtroom that she donate her hair, start recycling program, teach inmates how to read, and sell her paintings. Jodi did a TV interview just moments after she was found guilty and said without a doubt that she wanted to be sentenced to death, she has totally changed her tune.
Here is some of what Jodi said in her speech:
Jodi Found Guilty Of Murdering Her Ex Boyfriend
We told you that after a lengthy four month trial, the jury found Jodi guilty of brutally murdering Travis. She was found guilty of first degree murder and it took the jury 15 hours to deliberate.
– Chloe Melas
More Jodi Arias On Trial News:
Jodi Arias Takes 18th Day On Stand & Defends Murdering Boyfriend
Jodi Arias Calls Dead Boyfriend 'Tender' In Murder Trial
Jodi Arias' Murder Trial — Claims Innocence Of First Degree Murder