Jimmy Fallon: 'Who cares' if I get the 'Tonight Show' gig when Jay Leno retires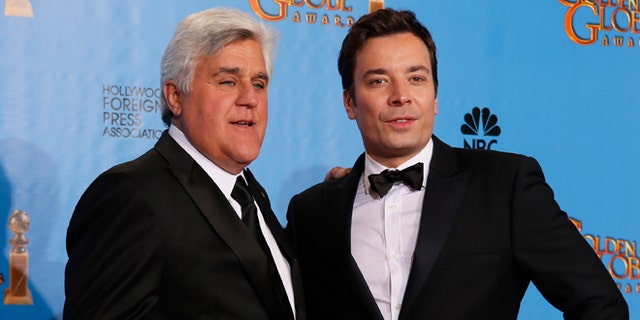 Will Jimmy Fallon be the next host of "The Tonight Show?" He says he doesn't care.

In the latest issue of GQ, on newsstands March 26, the funnyman addressed the burning question of whether or not he will take over "The Tonight Show" after Jay Leno retires.

"I mean, in the nicest way, who really cares," he told the magazine. "In the nicest way. It would be great, sure, I guess. I'd love it, but it's not on my mind. I'm in no rush to do anything. I'm kind of a boring character in that book. I'm not in a fight with Jay or Conan, or any of them. I don't have that story."

Still, "Saturday Night Live" producer Lorne Michaels said he thinks Fallon is a shoe in for the job.

"I'm not allowed to say it—yet. But I think there's an inevitability to it," he told GQ. "He's the closest to [Johnny] Carson that I've seen of this generation."

Sources have told FOX 411 that Howard Stern is also in the running for the coveted hosting gig.

But many have speculated that Fallon is currently the front runner for the job.

"Fallon has proven himself to be an affable, funny and buzz-worthy host and far warmer than Leno. But such a decision is going to involve serious resolve on NBC's part, they need to stay the course and give Fallon the time and resources that he needs to truly build a brand new audience from scratch, an audience who embraces Fallon as 'their' late-night host," Hollywood-based entertainment and pop culture expert, Scott Huver, told FOX411's Pop Tarts column.

Rumor has it that NBC will announce Leno's retirement later this year, and that the 2013/2014 season will be his last as "The Tonight Show" host.
FOX 411's Hollie McKay contributed to this report.