Jennifer Lopez and William Levy Rumors Are Swirling After Divorce Announcement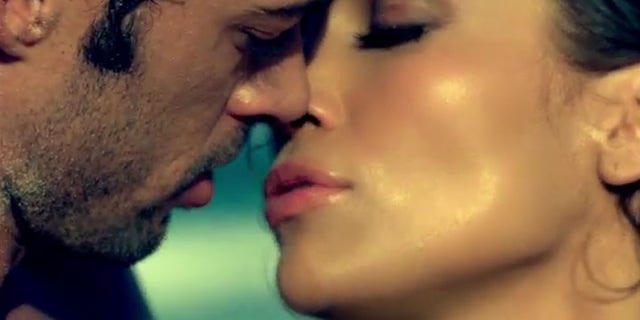 Was she into him all along?
We may soon find out just how much Jennifer Lopez swooned for William Levy during their steamy video for her hit single "I'm into You" now that the Puerto Rican dynamo announced her divorce from Marc Anthony.
Lopez and Anthony released a statement Friday evening (perfectly timed to minimize how much attention the news received) where they dropped the bombshell that they were calling it quits after seven years.
"This was a very difficult decision," the statement said.
"It is a painful time for all involved. And we appreciate the respect of our privacy at this time."
The news may have come as a surprise for fans who saw Anthony and Lopez put on an electric performance towards the end of American Idol but the sultry songtress has also shared a volcanic video shoot with telenovela heartthrob, Levy.
Lopez and Levy share intimate beach-side embraces as she strokes his shoulders and his chest in the video which was shot in Mexico and while there has been no official word linking the two stars, both have left their long-time spouses since the video aired.
Levy also separated from his wife, Mexican actress Elizabeth Gutiérrez, who took on the rumors of his alleged infidelities in the press release she sent out about the separation.
"I was always firmly by William's side, despite the persistent rumors...I had no reason to doubt the strength of our union," her statement read in Spanish.
"I confess that this decision hasn't been easy but I owe respect to myself as a person, woman and mother," she wrote.
Lopez and Anthony were married seven years and have 3-year-old twins.
They were to start work on a singing competition reality show billed as American Idol in Latin America. No word on the status of the upcoming show.
And only time will tell if Lopez is into anything more than a video shoot with the Cuban bachelor now that she's on the market as well.
Contact Adrian Carrasquillo at Adrian.Carrasquillo@foxnewslatino.com or on Twitter @RealAdrianC.
Follow us on twitter.com/foxnewslatino
Like us at facebook.com/foxnewslatino