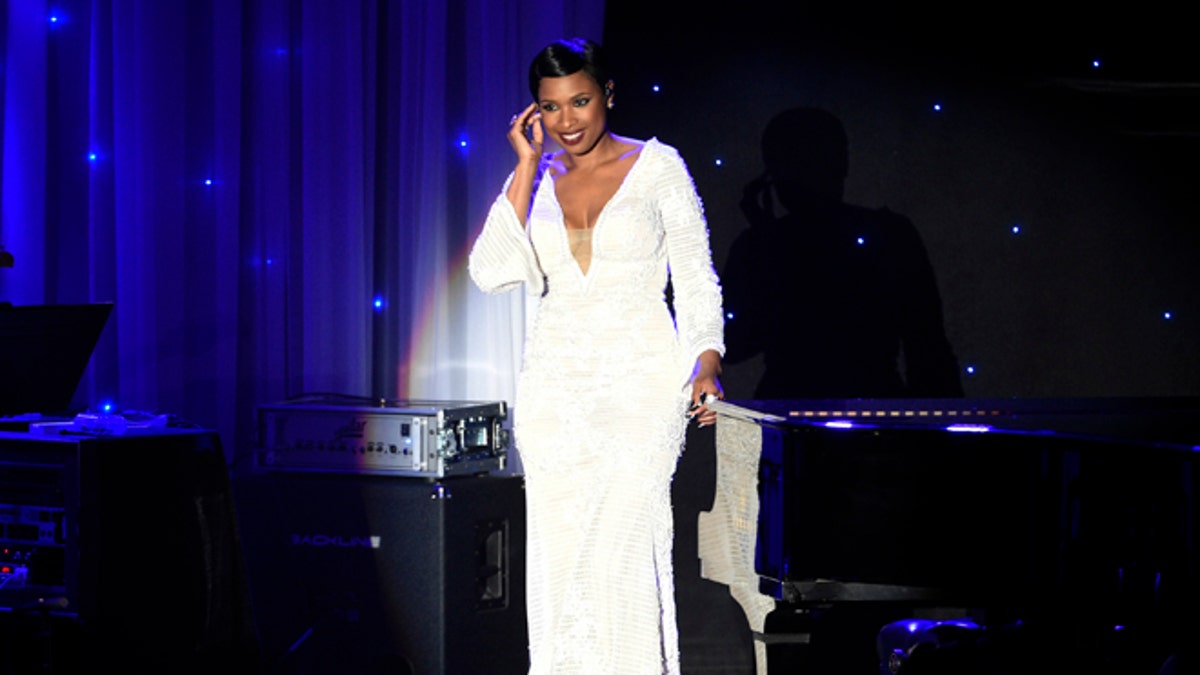 Mary J. Blige warned the audience at the Clive Davis Gala that she was not in a good place."I look happy, somewhat, but I'm going through some horrible stuff right now," said Blige, who was about to perform in tribute to Saturday night's honoree, BET Networks President Debra Lee.
"It's called a divorce."
Driven by her emotions, the R&B star went out to sing rousing renditions of "Thick of It" and "No More Drama" as the audience watched in awe. Diddy, Jennifer Hudson, French Montana, John Legend, LL Cool J and more stars stared closely from the front row, dancing along and cheering Blige on.
She screeched and screamed, ran from left to right, and even got on the floor to close her performance at the Beverly Hilton Hotel, held the night before the 2017 Grammy Awards."We are behind you and we love you to death," Recording Academy CEO Neil Portnow said following the performance.
Others, too, had shining moments almost as good as Blige's: Neil Diamond brought the house to its feet with "Sweet Caroline" and "Love on the Rocks" to end the black-tie event; Joe Jonas and his band DNCE was in strong form when singing the addictive pop hit "Cake by the Ocean"; and Brendon Urie of Panic! at the Disco, nominated for best rock album, hit all the right notes during an energetic performance that won over the crowd.
The night kicked off with Bell Biv Devoe, who sang their classic "Poison," which included full audience participation. Audience members included Stevie Wonder, Jane Fonda, Michael Keaton, Ringo Starr, Lena Dunham, Kris Jenner, Trevor Noah, Barry Gibb, Berry Gordy, Herbie Hancock and Wiz Khalifa, who was curled up with Amber Rose.
Lorde danced excitedly as seven-time Grammy nominee Chance the Rapper hit the stage, where he sang and rapped. And Hudson sang along as country singer and four-time nominee Maren Morris performed her hit, "My Church."
Maxwell paid tribute to Prince by singing "Nothing Compares 2 U," even changing the lyrics to also honor Whitney Houston."It's been five years since this day, since you took your music away," he sang softly.
Houston died in 2012 at the Beverly Hilton, hours before the Davis' pre-Grammy gala was to take place at the hotel. Davis only acknowledged Houston after Hudson performed, saying the public may be focused on those rappers leading in music, but that the traditional singers matter, too.
Hudson, in all-white, earned applause when honoring Leonard Cohen, who died last year, with his "Hallelujah."
The night, like many recent Hollywood events, also took some political turns.
"Did you see those photos of President Obama enjoying flight surfing?," asked House Minority Leader Nancy Pelosi. "I think President Obama is the only person who is happy Obama isn't president."
"At BET we are saying 'yes to us' and it's something we all should be saying loudly. We must persist and say 'yes to us' at a time when we are faced with so many no's from growing economic, religious, racial, gender and sexual orientation barriers, bans and walls," said Lee, who is the first woman to receive the Grammy Salute To Industry Icons Award.
And Judy Collins, who sang in honor of attendee and icon Joni Mitchell, said the day after President Donald Trump won the election it became "the dark ages."
Davis's annual gala, which also featured a performance by song of the year nominee Mike Posner, was tighter than most years, where the party could last into early Sunday. It ended at midnight.
"We started on time and it's going to be a tight show," Davis said.