Jennifer Grey Earns Top Score on 'Dancing With the Stars' Premiere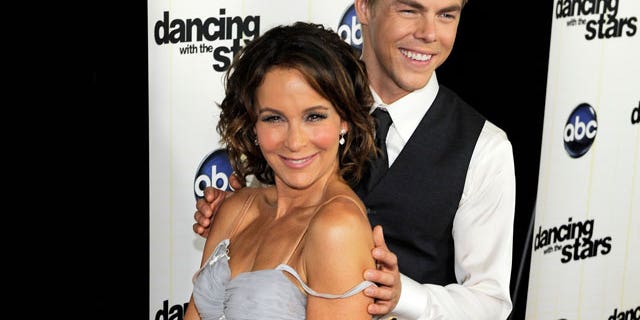 It was a situation, all right.
Veteran actress Florence Henderson took a page from Mike "The Situation" Sorrentino's playbook during Monday's "Dancing With the Stars" premiere, lifting her shirt to reveal a white bra (and matching abs) to viewers during a taped segment on the celebrity dance competition TV show.
"Mama Brady flashed her boobies on our show tonight!" judge Carrie Ann Inaba said after the two-hour premiere. Henderson starred as mom Carol Brady on the TV comedy series "The Brady Bunch."
"So, what do you give me?" Henderson, 76, asked the judge.
"For the boobies? 10," Inaba said.
SLIDESHOW: The Cast of 'Dancing With the Stars'
Judges didn't hand out any perfect 10s during Monday's show, but they did give three 8s to "Dirty Dancing" star Jennifer Grey, making her the night's top scorer with 24 points out of 30. The actress and her professional partner, Derek Hough, performed a Viennese waltz to a song featured in "Dirty Dancing" that moved Inaba to tears.
The pair was pleased with their performance, but Hough said scores weren't on their minds.
"Tonight we don't think about scores, first or front-runner," he said. "Tonight was just special. We got to dance to a song that is so iconic."
Singer Brandy and Disney Channel star Kyle Massey finished in second place Monday, tied with 23 points each.
There was another tie at the bottom of the judges' leaderboard: Comedian Margaret Cho, reality star Mike "The Situation" Sorrentino and actor-singer David Hasselhoff all landed in last place with 15 points each.
Cho added a comedic element to her waltz with partner Louis Van Amstel, pulling giant gold wings from her floral gown. She intentionally got tangled in the fabric and Van Amstel came to her aid.
"It didn't work," judge Bruno Tonioli said.
Sorrentino had only five days to practice the cha-cha with professional partner Karina Smirnoff, and judges said the performance lacked polish.
Tonioli said he saw in the dance "a very, very faint thing that may or may not be talent." But head judge Len Goodman told the famously muscular "Jersey Shore" star: "You've got the guns, but not the ammunition."
Hasselhoff and his partner, Kym Johnson, also performed a cha-cha, which judges roundly criticized.
Tonioli described the routine "a potpourri of insanity disguised as dance," while Goodman told the 57-year-old star, "It's never too early to panic."
Hasselhoff said after the show that he's more focused on fun than technique.
"We're attitude dancing," he said. "I'm the attitude, she's the dancing."
While many stars brought their families to the ballroom for the season premiere, former Alaska Gov. Sarah Palin wasn't on hand to cheer for daughter Bristol, who danced a cha-cha to Three Dog Night's "Mama Told Me (Not To Come)."
The 19-year-old single mom tore off the gray suit she was wearing to reveal a fringed red minidress underneath as she shook her hips alongside partner Mark Ballas.
POLL: What did you think of Bristol's sassy red dress?
Palin said she couldn't call her mom after the performance because she didn't have her cell phone. But the former vice-presidential candidate did give her some advice before the show, Palin said: "She just told me to be confident, smile and have fun."
Palin and Ballas collected 18 points for their routine.
Other contestants on the hit ABC show's 11th season are athletes Rick Fox and Kurt Warner, reality star Audrina Patridge and singer Michael Bolton. Bolton finished with 16 points. Patridge and Warner tied with 19 and Fox collected 22.
Judges' scores are combined with viewer votes to determine which celebrity is eliminated each week. The first celebrity of the new season will be dismissed during Tuesday's episode.