Jackson Memorial Rivals Obama Inauguration in Nielsen Rankings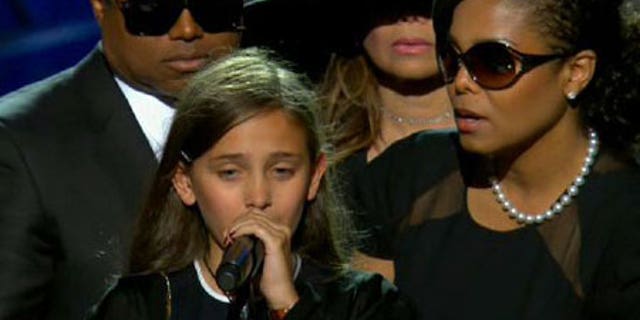 NEW YORK – Some 31.1 million people in the United States watched the Michael Jackson memorial on television, with millions more catching video streams on their computers.
The Nielsen Media Research estimate on Wednesday provided only a slice of the audience for the Los Angeles event. But it did offer insight on how the memorial compared to other events: President Barack Obama's inauguration in January was seen by 38 million people on TV, and the "American Idol" finale in May had 28.9 million viewers.
Eighteen different networks carried the memorial live, including all the big broadcasters and cable news stations, along with MTV, BET and the three largest Spanish-language stations. It had an audience share of 56, meaning that 56 percent of the televisions turned on during the memorial were tuned into Jackson.
Nielsen does not immediately have an estimate of Jackson's worldwide audience, a task that could take weeks.
Twelve years ago, 33.2 million people in the U.S. watched Princess Diana's funeral. That happened early on a Saturday morning, as opposed to the middle of a workday, and people then didn't have the option of watching it on their computers.
Complete estimates of the Internet audience were not immediately available, but individual Web sites reported some heavy traffic. MSNBC.com said it streamed nearly 19 million videos on Tuesday, a record for the site. Video streamers spent an average of 12 minutes on the site, MSNBC.com reported.
CNN.com said it had 10.5 million live streams, the second busiest day in its history. It streamed nearly 27 million videos on Obama's inauguration day. ABC News said its Web site had nearly 6 million video streams, with traffic up 70 percent over a typical day.
The event combined musical moments from the likes of Usher, Jennifer Hudson and Mariah Carey with remembrances from Brooke Shields, Magic Johnson and others. Brief heartfelt remarks by Jackson's 11-year-old daughter at the end stole the show.
Former President Reagan's funeral in 2004 was seen by 20.8 million viewers in the daytime hours, but his prime-time burial had an audience of 35.1 million people, Nielsen said. The opening ceremony of last year's Beijing Olympics had 34.2 million viewers.
Even for those viewers who watched Tuesday's Jackson memorial, there was still an appetite for more in prime time. ABC, CBS and NBC each had Jackson specials at 10 p.m. EDT and they had a combined audience of 20.5 million viewers. ABC won bragging rights for its Elizabeth Vargas-hosted hour focused on Jackson's children, with a leading 8.6 million viewers.