Is Victoria's Secret 'Go East' Geisha-themed lingerie racist?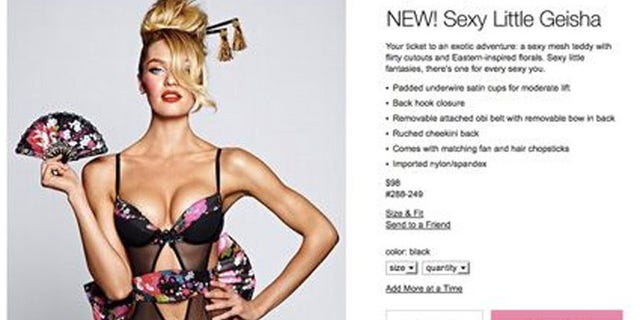 Lingerie giant Victoria's Secret has come under fire over its Geisha-themed get-up, with accusations that it is racist and perpetuates negative cultural stereotypes.
The controversial body suit, which is mostly black mesh and some floral fabric inserts and accessories, was modeled by blonde beauty Candace Swanepoel and dubbed as a "ticket to exotic adventure" as part of the "Go East" collection.
The accusations of racism were enough for Victoria's Secret to yank the piece from its online store, although they did not respond to our request for comment, and have yet to acknowledge the backlash.
"There's a long-standing trend to represent Asian women as hypersexualized objects of fantasy, so it's telling that none of the models wearing the 'Go East' collection appear to be Asian," Nina Jacinto wrote under the headline "Victoria's Secret Does it Again: When Racism Meets Fashion" on the blog Racialicious.com. She wrote that the undergarment reinforced "a narrative that says the culture can be completely stripped of its realness in order to fulfill our fantasies of a safe and non-threatening, mysterious East."
TheFrisky.com called the Geisha-themed outfit "tasteless," while The Daily Beast noted that the item "does succeed in offending an entire continent, and then some."
However, not everyone is buying the racism accusations.
"How is it racist?" questioned several people in the Twitterverse, another called the item "gorgeous," and another balked "oh please!" at the escalating outrage.
So is the controversy valid, or much ado about nothing? Should the lingerie label come out with an apology and/or explanation?
Let us know what you think in Comments.