Inside the Beverly Hills 'Lovely State Dinner'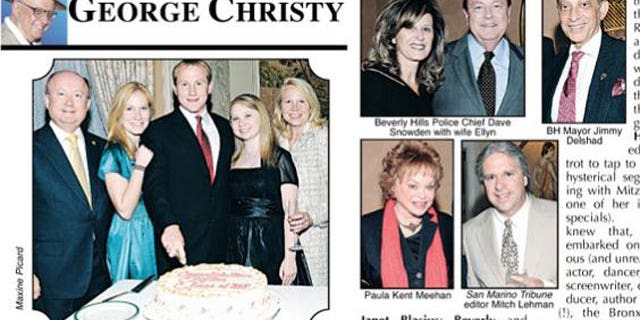 "This is a lovely state dinner."
With a wink of the eye, so decreed Beverly Hills Mayor Jimmy Delshad in his toast to the evening hosted by Clif and Candace Smith at the posh California Club, a historic bastion of civility founded in 1887 when a populace of 35,000 inhabited the then-tiny town of Los Angeles. Candace and Clif were honoring 21 year-old son Clifton, who graduated that afternoon from the USC Leventhal School of Accounting. Clif Smith is the publisher of the Beverly Hills Courier and the San Marino Tribune.
Young Clifton toasted his family, and acknowledged his younger sister Dorothy Kathryn, a college prep sophomore at Pasadena's Maranatha School, and sister Mary Evelyn, who graduated from Leventhal and joined the firm of Deloitte and Touche, rated as one of the Big Four accounting firms. "Not easy sharing the bathroom with two girls," chuckled Clifton.
Considered a state dinner, so-called, by Mayor Jimmy, in that the Smiths invited leaders from Beverly Hills and San Marino.Among them were our popular Beverly Hills Police Chief Dave Snowden, who we discovered is a Brigadier General and was a beloved police chief in Costa Mesa. His BHPD is recognized as one of the best in America. We met his stylish wife Ellyn, who tackles the not-so-easy task of masterminding auctions for fundraisers. These are two citizens we admire, as we admire Paula Kent Meehan, a BFF of the Smiths and a major force in our business community – her sumptuous estate is once-seen-never-forgotten. Paula founded the world-renowned Redken hair products empire which she sold to Cosmair, the U.S. licensee of L'Oreal, and now oversees her investment company and real estate holdings. We also fell in love with Clif's cousin, the astute political scientist Barbara Stone, who was with husband Harry Stone.
FULL STORY: Click here to read George Christy's full column at the Beverly Hills Courier