Inside Lindsay Lohan's Upcoming Prison Cell Hell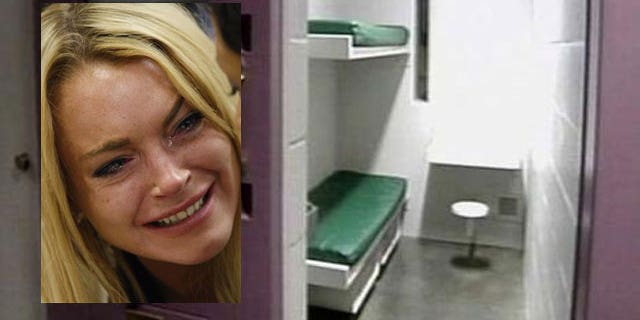 NEWYou can now listen to Fox News articles!
The Los Angeles club scene is certainly going to be quieter come July 20th when Lindsay Lohan surrenders to authorities and embarks on her 90-day jail sentence as a result of violating the terms of her probation.
The experience is bound to be an agonizing one for the 24-year-old, who will have to temporarily lead a lifestyle of loneliness in a dark cell, most likely at the Lynwood Correctional Facility in Lynwood, Calif. There, for most of the day, she will be bereft of cigarettes and Twitter, allowed only to see her family on two scheduled days per week.
However, what many may perceive as the most unwelcome component of the sentence will at least be over first.
"Lindsay is going to go through formal intake, where she will be subject to a full cavity search. (Prison officials) will search her – they will lift up her mouth, and her tongue, and then make her take her clothes off and they'll search her. It's very invasive for the simple fact that people can hide drugs in crevices, and they just have to check to see because that's how drugs are smuggled into the jail," Darmar Strong, owner of Second Chance Bail Bonds in Los Angeles, told Pop Tarts. "It's very, very demeaning and the reason they do it is to check for drugs, but also to let you know that your rights are limited when you're in a facility. Whenever that happens, like using the bathroom in front of people, the most basic rights that you have are taken away."
It is expected that Lohan will be placed in solitary confinement and granted limited contact with other inmates, as well as the "privilege" of stepping out into the sunshine for a small amount of time each day. And needless to say, the menu will be a far cry from the delicacies at the Chateau Marmont, her favorite haunt.
"Lindsay will be fed three times a day, on a 2,000 calorie diet. Typically, it could include sandwiches, juice and milk," Strong continued. "In Lynwood, the cells are 6' x 10'. It has a toilet, a concrete floor, and a cot."
But given her celebrity stature, might Lohan be given any extra liberties?
"I don't know that they will give her any special privileges, but the jailers and the people in charge will definitely treat her with respect and treat her no better and no worse than anyone else," Strong said.
According to Raymond Negrete of Platinum Bail Bonds, Lohan may be fortunate enough to shower at a separate time to her fellow jailbirds, for protection purposes.
In the wake of the 90-day sentence handed down by Judge Marsha Revel on Tuesday, Lohan's actual time served is already driving wagers.
The odd makers over at sportsbook YouWager.com were quick to place odds on the outcome for the actress – with 62.5 percent predicting Lohan will serve less than 21.5 days behind bars, due to the overcrowding of California prisons.
Australian radio station 2day FM has has also bade the troubled Tinseltowner the poster child for "Dry July," an initiative designed to encourage people to get support in abstaining from alcohol for one month. Lohan's face appears on a banner, alongside the slogan "Support Lindsay Lohan and Cancer Research. Donate Now."
As of Wednesday afternoon, only two people had donated to LiLo's good health.
- With reporting by Deidre Behar.