In "Brownsville Bred," Elaine Del Valle Recalls Growing Up in the Gritty Brooklyn Neighborhood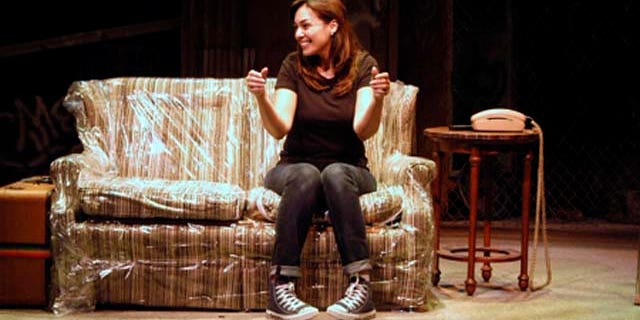 After a successful run on virtually every stage it has graced thus far, playwright and actress Elaine Del Valle is bringing her production "Brownsville Bred" back to her hometown, New York City.
Set against the backdrop of 1980s Brownsville, Brooklyn, Del Valle tells a first-person , coming-of-age tale of how she overcame a childhood of poverty and crime and eventually achieved success.
The one-woman play opens Thursday.
Though the comedic drama does have its fair amount of humor, it involves some of the darkest moments of Del Valle's life, including her father's serious drug addiction.
The story follows Elaine as she navigates her path to success through crime-ridden streets, peppered with shell-casings and crack vials. It tells how she overcame these obstacles.
"People always say that they jump over their hurdles – I don't feel like that. I feel that if you have obstacles, don't jump over them. Stand on top of them. Be proud of what you went through," said Del Valle during a recent interview at the Wynn Handman studios in Midtown Manhattan.
As the audience watches Elaine's character grow from a girl to a young woman, Del Valle tries to convey a strong message of empowerment and celebration of Latino heritage.
"What happens to the character in the show, to this kid, is that she becomes such a proud adult. A Puerto Rican woman who owns her life. I get to experience all of that every night and they (the audience) get to witness that forming within the character every night," remarked Del Valle.
The autobiographical, one-woman show has earned numerous accolades since its successful run at the Nuyorican Poets Cafe. In fact, the very first time Del Valle performed the show during a festival in 2009 (The Network's "One Act Festival" in NYC), it won the top award in every major category.
"It went up against 80 other plays. Best actress, Best Play – every prize that was available – I won," Del Valle said. "It was a very big surprise to sweep."
The play was discovered by director Pamela Moller Kareman, who attended a performance at the Nuyorican Poets Cafe during the production's run in 2010.
"I went to see this production and I found a gem that was ready to be produced in a bigger way," said Moller Kareman.
A director for many years and the artistic director of The Schoolhouse Theater in Westchester, NY, Moller Kareman believed this production was something special and almost immediately jumped on board.
"I have a very older, mostly Jewish subscription crowd, who want to see Neil Simon and maybe a few other things. So going to the Nuyorican to see this production was different," she said. "But after seeing it, it was a no-brainer. Though I have very little in common with Elaine, in terms of background, it was the universality of the story that spoke to me."
Perhaps that is the biggest accomplishment of "Brownsville Bred": it takes the specific story of a Puerto Rican from the projects in Brooklyn and somehow makes it relatable to people from all walks of life. It exposes a commonality that is often forgotten amidst class and status and makes a true champion out of an ordinary girl.
"I feel like I represent so many people in this play. You know, you list facts and on paper it doesn't appear that my mother or father were so special, but when you get to know them in the play you understand that they were," Del Valle said. "For that reason, I feel that this story also represents all those people who on paper don't ever seem to matter, but yet they do. I suppose I just didn't realize how universally that idea would be accepted."
"Brownsville Bred" is playing for a limited engagement at the 59e59 Theater in Manhattan through July 31st. For more information visit www.brownsvillebred.com.
Erica Y. Lopez has written for ABCNews.com and is a freelance writer for Fox News Latino. She can be reached at Ericaylopez@gmail.com.
Follow us on twitter.com/foxnewslatino
Like us at facebook.com/foxnewslatino