IDOL 411: Steven Tyler Apologizes, Contestants Are Crazy in Love (Emphasis on Crazy)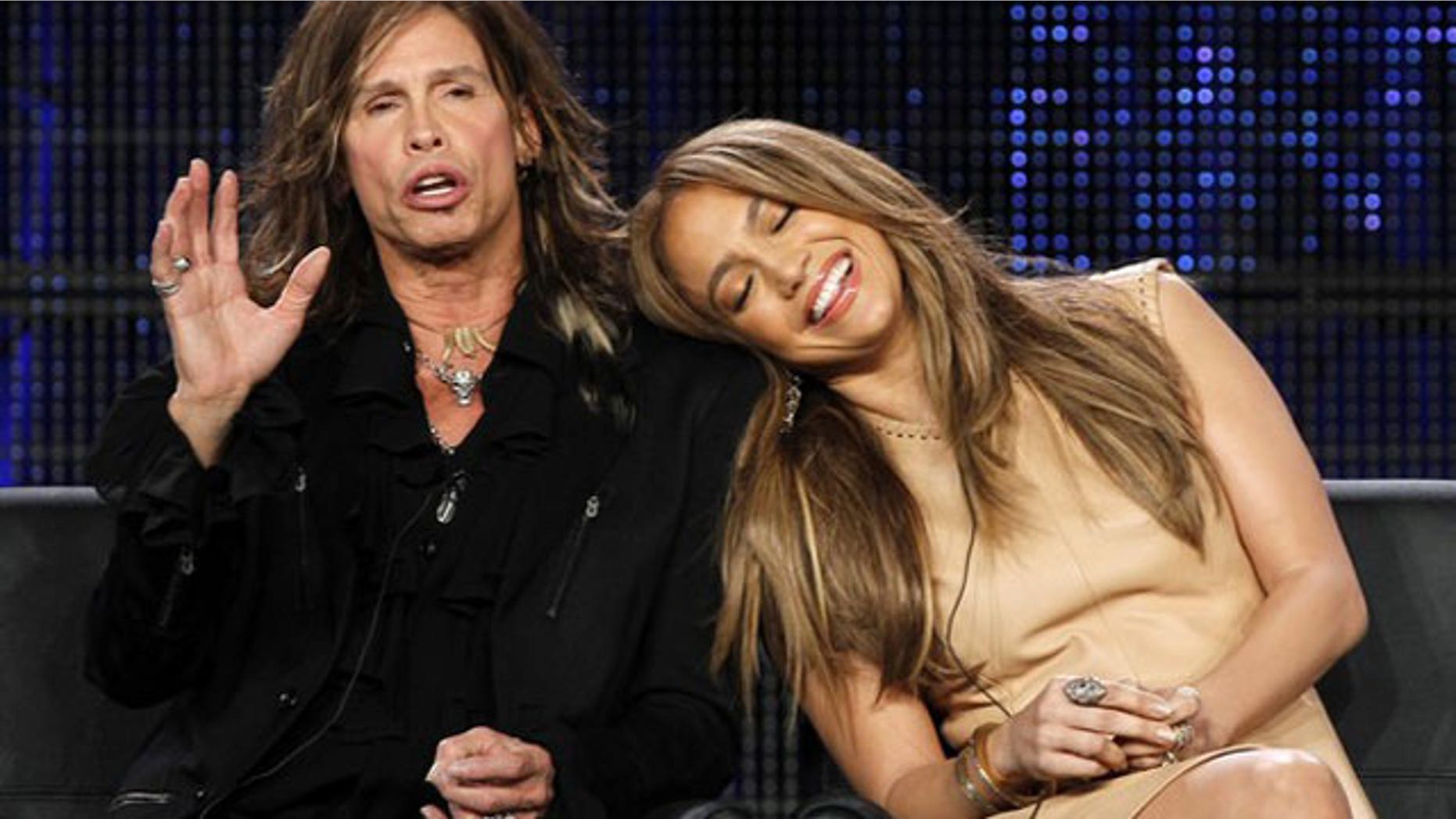 "American Idol" judge Steven Tyler's much-hyped apology left many fans of the show scratching their heads in wonder as to whether the legendary rocker was actually sorry for his often amusing behavior.
"Idol" kicked off last night's show by apologizing for "last week's outrageous behavior from Steven Tyler." They then cut to Tyler's meeting with contestant Jake Muck.
"You know what Muck rhymes with?" Tyler joked. "Read my lips!"
We're starting to realize that Tyler is the only person on network TV who can get away with saying the f-word.
In other "Idol" news, it appears the judges may have found its first power couple.
Crazy-in-love Jacqueline Dunford, 22, and Nick Fink, 19, met in choir at community college — and wound up being the hit of Wednesday night's Austin auditions episode.
It seemed like a spoof at first: An intentionally cheesy montage showed them kissing, rubbing noses, playing mini golf and frolicking in a green field — and made us giggle out loud.
But wait a second — they actually can sing! Jacqueline did a solid version of Duffy's "Mercy," and Nick was even better with Maroon 5's "Sunday Morning." Moreover, they're both quite good-looking, especially Nick, whom secure-in-his-sexuality Steven Tyler described as a "beautiful-looking man."
POLL: "American Idol" couple Jacqueline & Nick: sweet or sappy?
Love must have been in the air in Austin, because Courtney Penry, 17, had it bad for one Mr. Ryan Seacrest.
"Ryan Seacrest is the sexiest man alive. I will marry him someday," she declared, fighting back tears. "You know you love me because I love you. I've loved you forever."
Courtney then asked the judges if they wanted to see her "do a chicken" — meaning strut and cluck like a chicken, which she did frighteningly well.
But just when our crazy radar was starting to go off, Courtney sang "Stay" by Sugarland — and she was surprisingly good for a chicken impersonator.
See "American Idol" audition photos from Austin.
Corey Levoy, 21, also had a little fun with the judges. In a made-for-"American Idol" moment, Corey attributed his successful audition to the encouragement of his long-lost sister (you can't make this stuff up).
But before you could reach for a Kleenex, Corey decided to inform America that, "My whole life, I've been told I have a J-Lo booty," before proceeding to shake his groove thang back and forth.
Rumored diva Jennifer Lopez took it surprisingly well, asking the crew to "get close-up of that."
Another great line: When one goth-looking guy explained that he does clinical trials for a pharmaceutical company, Tyler exclaimed, "We have something in common! That was pretty much the whole '70s for me." Priceless.
But back to the contestants, "Idol" did succeed in finding some down-home country gals (and guys) in the Lone Star State. Janelle Arthur, 20, was a standout, and "Idol" rounded up a real-life Texas cowboy in John Wayne Schulz, 23. (His name is really John Wayne.)
When John's mom was diagnosed with breast cancer in 2007, he promised her he'd try out for "Idol." Turns out he's got legitimate country cred — and he's more than a little easy on the eyes. He's in!
Hollie Cavanagh, 17, also made the cut — barely. After botching "At Last," the judges gave her one more chance to sing Miley Cyrus' "The Climb." How can you reject a crying 17-year-old singing Miley's inspirational hit? She's in!
Finally, Casey Abrams, 19, looks like a cross between Seth Rogen and "Fraggle Rock" (if you're old enough to get that reference), but he's the first contestant this season to play an instrument, and he can scat to Ray Charles! Talent certainly comes in all shapes and sizes.
But a 7-foot armadillo had no such luck. She failed to impress Randy — who seemed to be in a bad mood — and sulked that she'll "just be an armadillo for the rest of my life."
Ryan summed up Austin as "a little bit country, a little bit rock 'n' roll and a whole lotta weird." He got that last part right.
—Jennifer D'Angelo Friedman, PopNews Wire