'I Dream of Jeannie' star Barbara Eden describes working with Larry Hagman, Elvis and Lucille Ball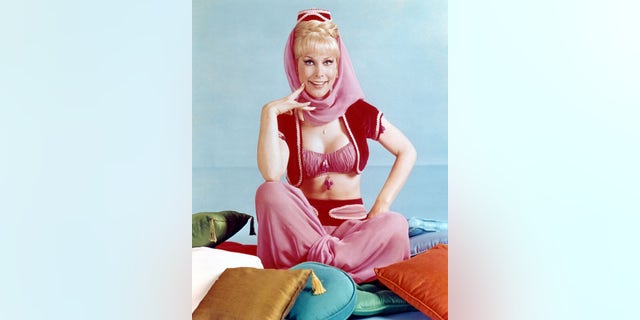 Barbara Eden enchanted audiences across the country with a nod and a blink in the beloved '60s sitcom "I Dream of Jeannie" — and 47 years later, she's still celebrated as a beloved TV icon.
The 86-year-old was recently honored by the Library of American Broadcasting Foundation at the Giants of Broadcasting Luncheon for her decades-long career in film and television. But don't expect Eden to sit back and enjoy her success.
She has never stopped working and still headlines shows both in the United States and abroad. Simply put, this genie has been long out of the bottle and doesn't have any plans to vanish in a cloud of smoke.
Eden spoke with Fox News about her favorite memories on set, what her life is like these days and why her belly button was such a hot topic:
Fox News: How does it feel to still be recognized as an icon in American TV?
Barbara Eden: It feels really good! I like it. I'm still active, I'm still working. It's always good to be recognized for hard work you've done in the years past. While you're doing it, you don't think of it so much. You're just working. It's a wonderful thing for someone to acknowledge it.
Fox News: What's keeping you motivated these days?
Eden: I just like my work. I think I'm very, very lucky to have found a profession that I fit in. So many people have to make their living doing things they don't really enjoy, but are necessary for their family. I'm just lucky, very lucky.
Fox News: What is it about 'I Dream of Jeannie' that continues to entertain audiences?
Eden: I think it's a happy show. Of course, the genie and the fantasy is a classic story. So I think people will always be entranced by that magic. But we had a pretty good working relationship, all of us on the show. It made a difference. Larry [Hagman] was so good. And our Dr. Bellows (Hayden Rorke) was wonderful. It just made everything click.
Fox News: What's one memory you have of Larry Hagman that still makes you smile?
Eden: Oh, there's so many! We seemed to have the same rhythm in our comedic timing, which was fortunate for both of us. We enjoyed working together… The most outstanding story with Larry was the one when we had a lion as a guest. I had done two feature films with lions and I've been told how to treat them. They're male lions, they're lazy. If they're well fed, they don't really want to eat you. But they do want to play with you if you run around! You have to be very quiet with them. So I went over and I told Larry, 'We have to go make friends with the lion.' He goes, 'I'm not going to make any friends with any bleep lion!' And walks off!
And so, I walked over and I did the usual things I've been trained to do. I scratched him behind the ears. Never the ears, just behind the ears. And I rehearsed with the cat. He was 600 pounds, a big male lion. They put a little bowl of raw meat beside me. He put his head down and nom, nom, nom. Oh boy, that was good. He looks around and he's very happy. Very, very happy. And then Larry came in. They started the scene.
They put the meat down and he ate his meat. He turned around, looked at Larry, and let out a huge roar! It was the loudest roar you have ever heard in your life. Larry was on the next set. He was gone! But not only was he gone, every single man on that set ran. They broke the camera, one of the pieces fell over and I had a 600 pound lion on my lap purring. He put his head in my lap and started to lick my arm, like a great, big pussycat.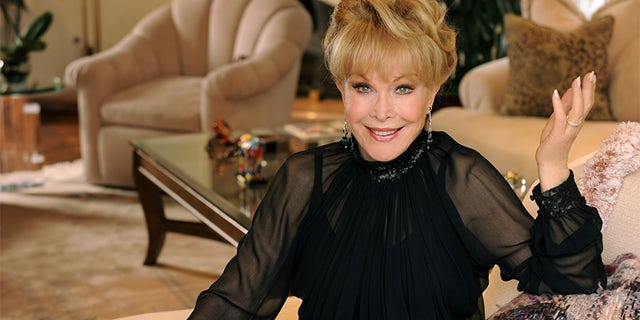 Fox News: Was there a moment from your time on 'I Dream of Jeannie' that still sticks out to you?
Eden: Oh my goodness, so many things happened on set. One of them was [when] my mother came to visit the set for the first time. And it was a show in which the genie was trapped in a safe. And inside that safe, don't ask me why, there was a huge lipstick and a bottle of aspirin. I don't know why that was in the safe, but it was! And of course, they would jiggle the set whenever someone would pick up this safe. Well, they jiggled it a little too hard and the lipstick fell over and hit me on the head. I was out for a couple of minutes. My mother was having a fit! Just having a fit.
Fox News: What's the story behind the belly button controversy?
Eden: I have a big 'thank-you' to the media for that. I was on the set one day and [a writer] for The Hollywood Reporter walked on the set and right over to me. He said, 'I don't believe you have one.' I said, 'A what?' And he goes, 'A belly button!' And then he poked me in the middle! He started writing about my belly button... The next thing I knew, the 'Laugh-In' wanted to premiere my navel on NBC. I know a lot of women are known for very glamorous body parts, but my navel? Ha!
Fox News: You previously starred in the 1960 film 'Flaming Star' alongside Elvis Presley. What was your impression of Elvis?
Eden: He was a lovely man. Well brought up. Was a hard worker. A very good actor and wanted to be. This was the only film that he really had a chance of showing he could act. He got excellent reviews on the film. And, of course, it didn't make a penny because... he didn't sing a song. That wasn't what his fans wanted. But he was excellent.
Fox News: How was it working alongside Lucille Ball in "I Love Lucy"?
Eden: Oh my, that was mind-boggling for me. It was the third job I had in Los Angeles and she was so good to me. I can't tell you how sweet she was. I had a dress on that she didn't think was outstanding enough. She asked me to take it off and the next thing I knew, she was sitting there putting sparkling things all over it, just to make it look better.
Here's the star of the show making this young woman look better. She was just so wonderful and so talented. Of course, I couldn't believe I was there. She wanted to sign me to a contract because she believed in comedy and thought I had a great bent for that. But at the time I had already tested at Fox, and I received the phone call while I was on the set. They picked up my option and so, instead of "Lucy" I went to Fox.
Fox News: At any point in your career, did you ever feel typecast because of your success in 'I Dream of Jeannie'?
Eden: No, I didn't, I really didn't. Because after I did 'I Dream of Jeannie,' I did at least two other television shows. And I don't know how many television movies playing entirely different kinds of people. I was so busy… So, I didn't feel that I was ever typecast. In fact, I wasn't. 'Jeannie' just so happens to be the one people remember and that's all right with me. She's easy to live with. I really like her.