How the 'Jersey Shore' Stars Got Their Nicknames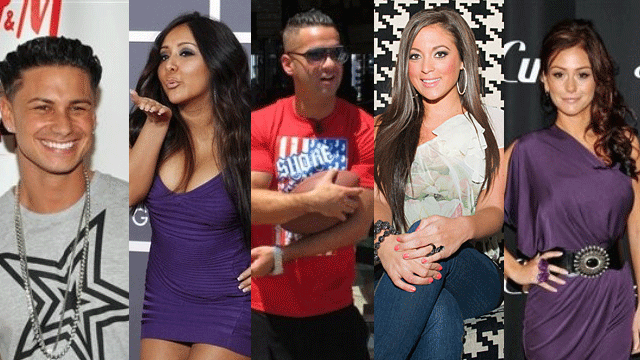 We have the 'Jersey Shore' cast to thank for some of our most disturbing new acronyms: GTL, MVP, and, of course, DTF.*
But how did the reality stars, whose fourth season kicks off tonight, get their nicknames?
Let's step back in time...
Nicole 'Snooki' Polizzi
This pint-sized star got her nickname after watching the 2001 teen dance movie, "Save the Last Dance." Her friends began calling her "Snooki" after a character in the flick. However, Snooki is sick of her nickname. "Now I wish I could change it," she said during her "E! True Hollywood Story." "I miss my name 'Nicole' so much."
Jenny 'JWoww' Farley
Jenny explained that whenever guys pass her by, they exclaim, "Wow!" which eventually lead to a co-worker calling her, "Jenni Wow." Later, she shortened it to just 'JWoww.'
Makes sense.
Mike 'The Situation' Sorrentino
In season two of the "Jersey Shore," Mike gracefully explained why he is called 'The Situation'. "My abs are so ripped up it's called 'the situation.'"
"I walked by a girl with her boyfriend. She's holding her boyfriend's hand and as she walks by me ... she's like, 'Oh my God, honey! Look at his abs!' And my boys are like, 'Dude, that's a situation right there,'" Sorrentino explained on "Live With Regis and Kelly."
And a nickname was born.
Paul 'DJ Pauly D' DelVecchio
An aspiring DJ, Pauly began spinning tunes at the age of 16. The 'D' stands for his last name, DelVecchio.
Sammi 'Sweetheart' Giancola
In the reality show's opening, Sammi reveals that she is "the sweetest bitch you'll ever meet."
What a sweetheart, indeed.
Season 4 of the 'Jersey Shore' kicks off Thursday, August 4th at 10pm on MTV.
*GTL: Gym tan laundry;  MVP: Mike, Vinny, Pauly; DTF: Down to F**k. Oh my.