'Housewives of Miami' Star Alexia Echevarria on Son's Altercation With Homeless Man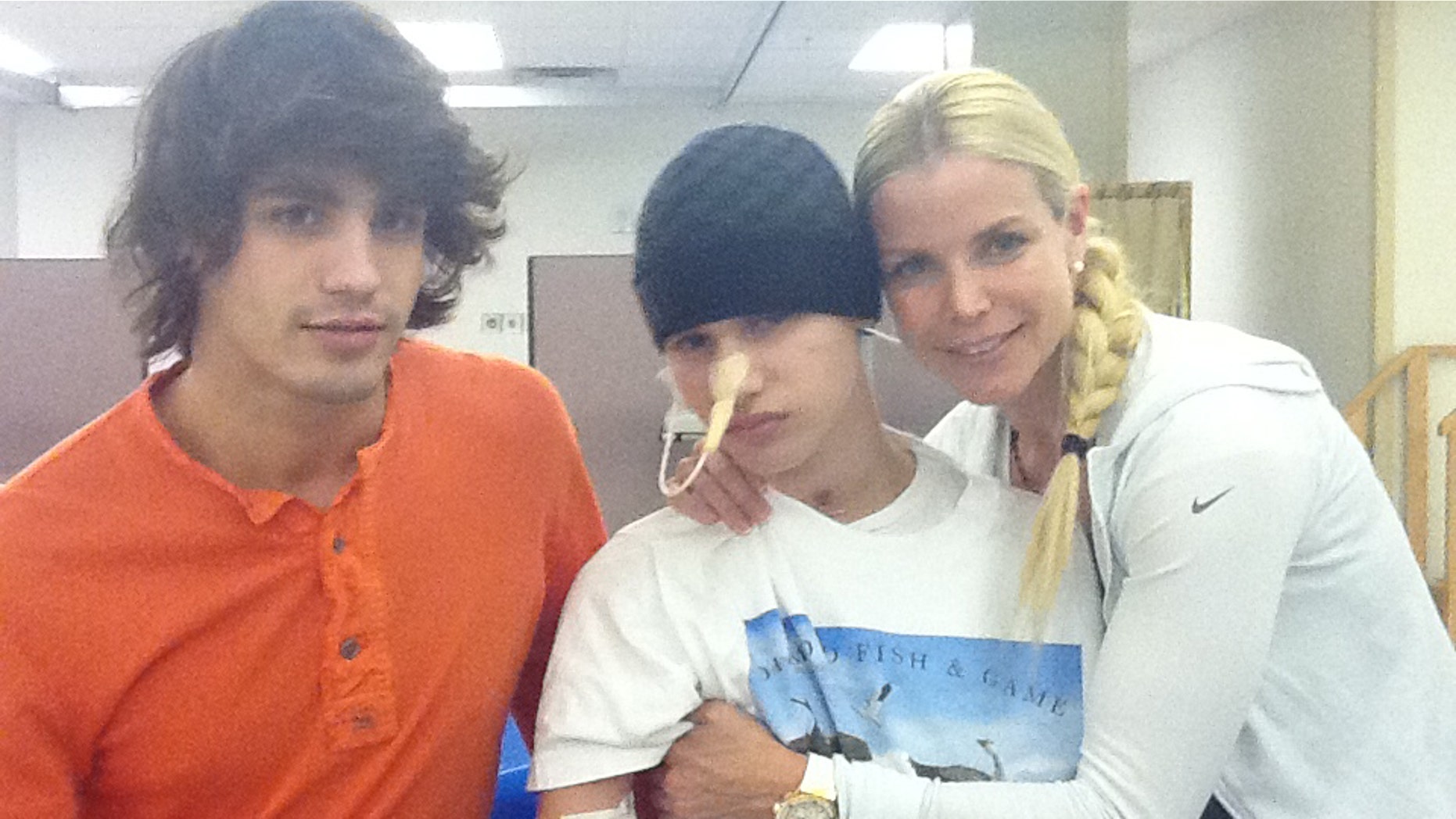 First off, Miami Housewife Alexia Echevarria says she never called herself the "Cuban Barbie."
She may take good care of herself, have blond hair and a cute turned up nose, wear super-sexy clothes, and star on a hot reality TV show, but beyond all that, Echevarria is a mom first and foremost. This year has proved to be a heartbreaking and challenging year for this mother, wife, magazine editor, and TV star.
"My reality is real," Echevarria says of the past year and two months.
You kiss your kid goodbye on their way out the door one morning and 15 minutes later you get the phone call no mother ever wants to get—your child has been in a horrific accident.
Echevarria says her heart began hurting when she heard the news about her son Frankie's car crash.
On August 14th, 2011, Echevarria's son Francisco "Frankie" Rosello was riding in a car on a rainy morning when the car lost control, jumped the median and hit an oncoming SUV. He was rushed to the hospital for emergency brain surgery. He spent three months in a medically induced coma to allow swelling in his brain to go down, and three more months in the pediatric intensive care unit for recovery.
His spleen was removed and he also required surgery on his pelvis. Now, nearly a year after the crash, Frankie is still affected by aphasia, a condition caused by his brain injury that limits his ability to communicate properly. He continues daily physical, occupational and speech therapy--Echevarria was has been at his side throughout.
"Every day is better. He's a fighter. He learned to walk before talking. I knew that was more important to him. My Frankie is happy and healthy, and God willing he'll be back in school in January of 2013. I think it's important for him socially. So many people have prayed for us. He's a different boy, but I'm a different person too. But life goes on. I don't hide him. He comes to the office with me every day," Echevarria says.
Echevarria's reality didn't end with her son, Frankie. She has another son, Peter Rosello, who made news a month ago when the 20-year-old was arrested for punching a homeless man in the groin. The police were notified when they were made aware by TMZ of an online video of the incident.
Rosello was charged with felony battery because the man was homeless.
"That's not my son. He has a huge heart. He's very sorry and remorseful. This wasn't his intention," she said. "Frankie's accident destroyed Peter. He became self-destructive. He wrote a letter to me that said that if Frankie hadn't made it, he would have killed himself."
She said as the older brother, he's been protective of his brother and has taken his brother's accident hard.
"Peter wonders if his brother will ever be back to himself before the accident. I believe Peter's behavior has everything to do with his brother's accident. Kids make mistakes and this one is costing him a lot," Echevarria says.
Both Frankie and Peter are children Echevarria had with her first husband, Pedro Luis Rosello.
Her ex was recently arrested in Miami for violating probation stemming from an arrest in 2007 for sexual battery of a minor. He spent time in federal prison in the 1990s for smuggling cocaine. Echevarria says the boy's father loves them very much—"good role model or not."
For the past nine years, Echevarria has been married to Herman Echevarria, a Cuban-born multimillionaire who was a former Hialeah councilman and is owner of the Lifestyle and Society magazine Venue.
"My boys have two dads," Echevarria says.
Today, the "Miami Housewives" star says her son Peter will be starting at Miami International University's Art & Design in the Audio Production & Engineering program. The family will be building a studio in the house. Both boys share a love for music and Echevarria says she hopes this will focus her son Peter.
"Everything I've been through in my life makes me grateful for what I have. I don't think too much about the future. I live for today," she said. "I leave it in God's hands. Only a mother can really relate  to what all of this."