Hope Solo: Maksim Chmerkovskiy 'slapped' me during 'Dancing With the Stars' rehearsals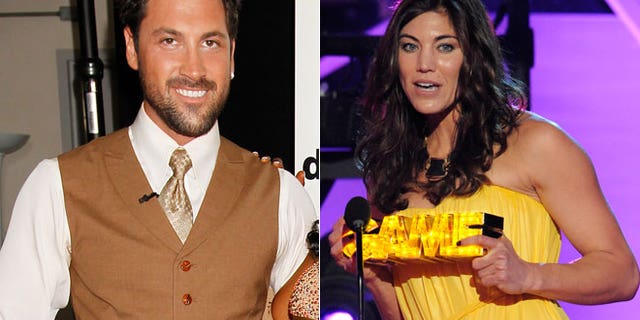 Soccer star Hope Solo makes a bombshell claim in her new memoir, claiming her "Dancing With the Stars" partner Maksim Chmerkovskiy was physically aggressive during their partnership for the ABC show last year, even slapping her in the face.
In the new book "Solo: A Memoir of Hope," the 31-year-old professional athlete accused Chmerkovskiy, 32, of using shoves and slaps when she would not get her dance moves correct during rehearsals.
"He manhandled me in rehearsals from the start, pushing me, whacking my stomach, bending my arms roughly. I thought that was just how it went – how dancers worked with each other," she wrote. "But it kept getting worse. One day, Maks was trying to put me in a certain position and hit my stomach so hard with his open palm that I had a red handprint there for the rest of the day."
Solo also said he "slapped" her "hard" on her face while rehearsing, according to Us magazine.
She claims that after the incident, ABC gave her the chance to switch partners, but she stayed with him so as not to "end Maks' career."
She was also concerned that the tabloids would make her look like a "prima donna," Us reports.
Solo also said that she was uncomfortable being caught inbetween Chmerkovskiy and his feud with Len Goodman.
"I didn't know what to say," Solo wrote of her partner's infamous "this is my show!" outburst.
"I was caught in some ongoing 'DWTS' fued that had started long before I signed on," she said.
Chmerkovskiy has not responded to her claims, but tweeted, "Always hated hypocrites and liars, but when someone is both and an opportunist, I just feel bad for them. Can't win at someone's expense."
He later wrote " life's best lessons are the ones that you smile through."