Holly Madison on New Memoir: 'I Wasn't Out to Write Fifty Shades of Grandpa'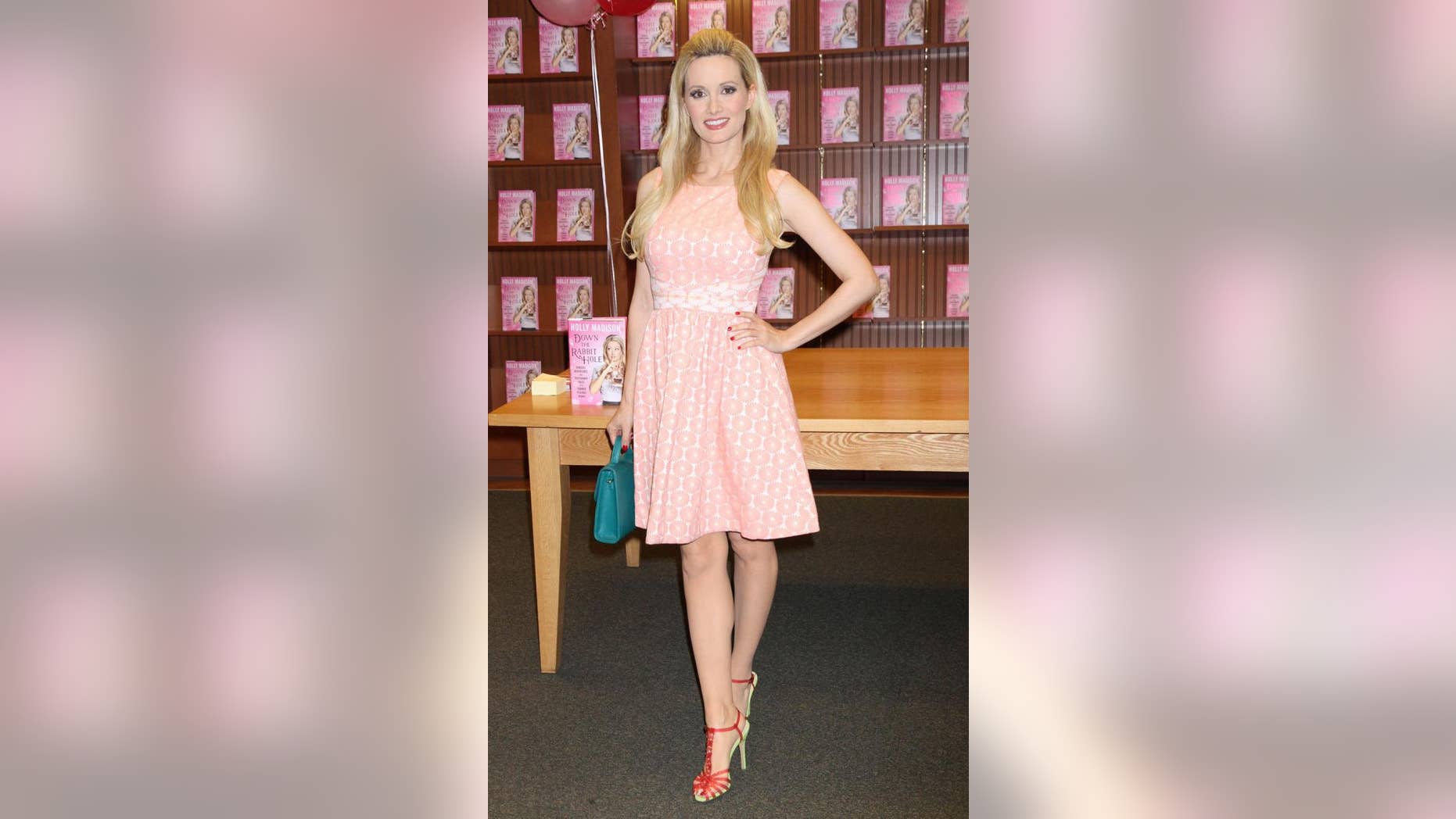 What happens in the Playboy Mansion stays in the Playboy Mansion? Not for this former Bunny.
Holly Madison may be best known for being Hugh Hefner's former No. 1, and one of the three blonde bombshells (along with Bridget Marquardt and Kendra Wilkinson) on the reality TV series "The Girls Next Door," but these days life is anything but lavish parties with the magazine mogul and his Playmates. Now married with a two-year-old daughter, the 35-year-old is enjoying a more modest lifestyle, dividing her time between Las Vegas and Los Angeles.
And now, she's revealing what it was really like living in the Playboy Mansion — and things weren't as warm and fuzzy as they seemed.
Madison recently released a memoir, titled "Down the Rabbit Hole," which explores her life in Hefner's home, and details the (alleged) years of verbal and emotional abuse she endured. Because while Madison may have appeared bright-eyed and bushy-tailed in her racy pictorials for Playboy, things weren't exactly a dream behind the scenes. According to Madison, the Mansion's super strict rules, its growing harem of backstabbing Bunnies, and Hefner's constant belittlement not only made her feel "ugly" and "worthless," but she even contemplated suicide.
While Hefner has since fired back at Madison's allegations in her book, claiming she was "rewriting history," the best-selling author is standing by her story.
Fox News Magazine spoke exclusively with Madison about why she chose to come forward with her story and whether or not becoming a Bunny was ultimately worth it all.
FNM: What made you want to release a book like "Down the Rabbit Hole"?
HM: There are a few reasons. The first is, I thought sharing my story and what I learned from my mistakes might help people who are in unhappy relationships or feel defined by a dumb decision they made when they were young. I want to inspire people to have faith in themselves and start over if they need to. Also, I felt like I was living a lie. For years, I would meet fans of "Girls Next Door" who ask me if I still talk to Hef or if I missed the Mansion. I couldn't believe that they couldn't see that I was living a better life being independent and successful on my own. I felt like I was living a lie by not sharing my story.
FNM: What was the most challenging subject to write about in your book, and why?
HM: Definitely chapter two. My first night out with Hef and the girls was hard for me to re-live because I still can't believe I made the decision I did. When I was writing the book, I kept skipping that chapter and saying, "I'll come back to it," over and over again.
FNM: You mentioned in a previous interview that you genuinely liked Hugh Hefner and even fell for his "gentlemany act." What was it about Hugh that made you want to pursue a relationship? And what's this about the "bedroom routine"?
HM: I think every girl in that situation was attracted to the lifestyle and the once-in-a-lifetime adventure that living at the Playboy Mansion seemed to be. Hef definitely came across as a gentleman, and I liked that about him. I talk about [our] "bedroom routine" in my book, but I don't feel I do so gratuitously. I wasn't out to write "Fifty Shades of Grandpa." (You can find more info on that "bedroom routine" here.)
FNM: Describe the one moment you realized the Mansion just wasn't for you.
HM: There was more than one moment, but throughout the seven years I was with Hef I always tried to be the best girlfriend I could, and only focused on his positive features. I blamed any unhappiness or problems I had on the other girls. When the other girls were no longer a part of the picture, I couldn't make excuses anymore.
FNM: How did this book serve as a form of therapy?
HM: I couldn't leave any stone unturned if I truly wanted to tell my story and communicate to the reader where I was coming from, or why I made the decisions I did, or what I have learned from my mistakes. There were so many things I never talked about and didn't even want to think about for so many years, and I finally had to face those demons.
FNM: In "The Girls Next Door," you stressed how much you wanted to be a wife and mother. Since then, you've made these dreams come true.
HM: Marriage and family are the most amazing part of my life, but I was a better, happier person even before I met my husband. I was single and successful entirely on my own for four years after leaving the Mansion, and those years were what I needed to truly get to know myself and grow into the woman I was always meant to be. I am glad marriage and family came after that.
FNM: How has your friendship with Bridget and Kendra changed since you left the Mansion?
HM: Bridget and I have always been close, but Kendra and I are no longer friends.
FNM: If given the opportunity to sit down with them, what would you want to tell them?
HM: I wouldn't be interested in sitting down with Kendra, but I do wish her and her family the best.
FNM: Many women dream of becoming Playboy cover girls. Looking back at your own personal experience, what advice would you share with these girls?
HM: One piece of advice I always give girls who say they want to pose nude is this: When you pose nude once, people will forever think that you will get naked anywhere, at any time, and for any thing. So many girls who wouldn't ordinarily pose nude want to do Playboy because it seems so glamorous and so many stars have done it, but you need to be prepared for the baggage that comes along with a decision like that, too.
FNM: Many critics have argued that writing this book is your way of returning to the spotlight. What's your take on these allegations?
HM: It makes me laugh because I have grown to hate being in the spotlight because of Playboy! One of the themes in my book, actually, is how fame isn't everything. When I was young, I thought that fame was the greatest thing ever, but it's really not that fulfilling, particularly when you're "famous for being famous." I actually have a message I want to share, but those who are still blinded by fame probably can't see that.
FNM: If you could do it all over again, would you become a Playboy Bunny?
HM: I wouldn't change anything, even the bad things, because I learned so much from my choices and their consequences and I love my life today. If I hadn't gone down the road I went down, a part of me might still be wondering what it would be like to be a Playmate.