Hoff the Show: 'Baywatch' Hunk Leaves 'Dancing With the Stars'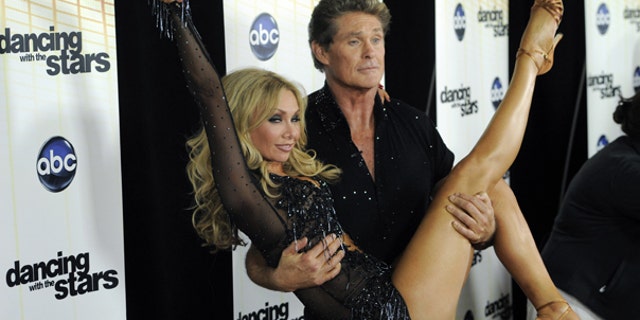 NEWYou can now listen to Fox News articles!
LOS ANGELES -- He was king of the beach on "Baywatch," but David Hasselhoff didn't fare so well on "Dancing With the Stars."
The 58-year-old entertainer was the first celebrity voted off the new season of "Dancing With the Stars." Hasselhoff and his professional partner, Kym Johnson, were ousted from the program Tuesday after performing just one dance.
"It's been a great ride," Hasselhoff said after learning his fate. "I feel bad for Kym because she worked hard trying to get me where I was going. I'm so proud that my daughters are here and they got to see me come this far."
"I think his daughters are more upset than he is," Johnson said after the show.
Hasselhoff said he joined the hit ABC celebrity dance competition because his family are fans. Daughters Hayley and Taylor were in the audience for Tuesday's show and said they were proud of his performance.
The judges, however, felt differently. They criticized Hasselhoff's cha-cha, with judge Bruno Tonioli calling it "a potpourri of insanity disguised as dance." The couple landed in last place, tied with "Jersey Shore" star Mike "The Situation" Sorrentino and comedian Margaret Cho.
Johnson said she was disappointed she wouldn't get to perform a ballroom routine with Hasselhoff, which might have suited him better.
National Football League star Kurt Warner, who threw a pass to Hasselhoff during a taped segment on Tuesday's episode, said he was sorry to see the Hoff go.
"We're bummed," he said. "Going into this thing knowing somebody had to go home, that's the worst part of the whole thing."
Still, he and the other remaining contestants said they're turning their attention to perfecting next week's dance. Half the group will perform the quickstep while the other half do the jive.
Bristol Palin will be learning her new dance on her home turf in Alaska.
"Flying to Alaska takes a long time, so we're going to have that against us," she said after the show.
"We're going to be dancing in the aisles of the plane," joked her professional partner, Mark Ballas.
Palin said it was "a bummer" mom Sarah Palin, the former Republican vice presidential candidate, wasn't able to see her "Dancing" debut in person.
"Hopefully she'll be here for the next week," Bristol Palin said.
Besides Sorrentino, Palin, Warner and Cho, the remaining contestants are singer-actress Brandy; actors Jennifer Grey, Florence Henderson and Kyle Massey; athlete Rick Fox; reality star Audrina Patridge and singer Michael Bolton.
Each will perform a new dance on Monday.