Hip-Hop Star Ana Tijoux Taps Into Her Chilean Roots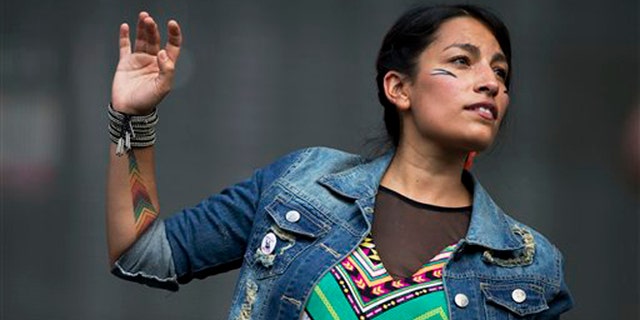 SANTIAGO, Chile (AP) – Ana Tijoux, whose rap song "La Bala" (The Bullet) became the soundtrack for Chile's student movement, has emerged as one of the most influential voices in Latin America's hip-hop scene.
Now Tijoux, who spent her youth in France after her family was forced into exile during Gen. Augusto Pinochet's dictatorship, says she's eager to discover her roots. Her latest album, "Vengo" (I Come), trades pre-recorded electronic tracks for a live band of traditional Andean instruments to accompany powerful lyrics that tackle everything from social conflicts and indigenous rights to feminism and freedom.
"It's a sort of manifesto," Tijoux told The Associated Press. "I want to learn and look at the world with other eyes."
Tijoux, 36, moved back to Chile as a teenager and discovered her love for hip-hop. Her album "1977," referring to the year she was born, was nominated for a Grammy in 2011 and the song under the album's same name was featured in the popular TV drama series "Breaking Bad." Back home, "La Bala" became the anthem for multitudes of Chilean students demanding education reform and a lessening of the country's huge gap between the rich and poor.
"This new generation of students has been a bucket of cold water, a giant slap in the face for all of us. It's a huge lesson about the ability to unite, and fight over something as basic as the right to study," Tijoux said.
"It was also a tremendous inspiration. The marches have been a high point for the gathering of otherwise invisible artists," she said. "I never saw so many photographers, dancers, musicians as I saw in the marches. It's a boiling pot for artists who are not part of the mainstream."
The student protests began under the 2006-10 presidency of Michelle Bachelet, who appeased some students by naming a commission including several of their leaders, and shuffling her Cabinet. But others were disappointed.
Bachelet was inaugurated for a new presidential term last month. She has vowed an education overhaul in response to the millions of people who have taken part in protests since 2011 demanding deep changes to a system suffering from poor quality public schools, unprepared teachers and expensive private universities.
Follow us on twitter.com/foxnewslatino
Like us at facebook.com/foxnewslatino