Hillary Clinton to appear at OZY Fest alongside acts like Michelle Wolf, Chelsea Handler, Common and more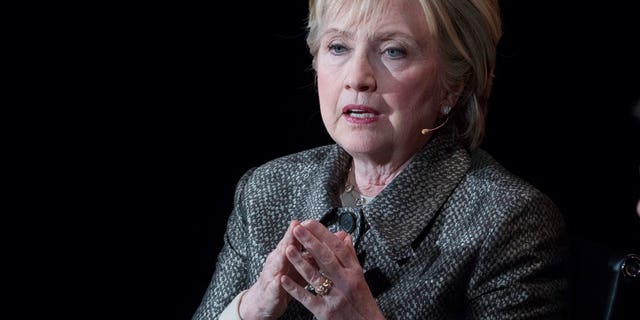 Hillary Clinton will be featured at the 2018 OZY Fest in New York City for an interview about politics and more.
OZY Media announced the news on Thursday that Clinton will be featured as part of this year's lineup, which already includes acts that run the gamut of music, literature, comedy and politics. Emerson Collective president and founder Laurene Powell will interview the former Secretary of State and 2016 presidential candidate on Saturday, July 21, at Rumsey Playfield in New York City's Central Park.
According to the announcement, performances and talks will be given by Passion Pit and Common; comedians Chelsea Handler, Hasan Minhaj and Michelle Wolf; politicians Rep. Mark Sanford, Sen. Kirsten Gillibrand, and Karl Rove; entrepreneurs Ruth Zukerman (Flywheel), Tim Brown (Allbirds), Cindy Mi (VIPKID); authors Malcolm Gladwell, Steven Pinker, Roxane Gay and Salman Rushdie; celebrity chefs Marcus Samuelsson and many more.
OZY Fest has been described by The New York Times as "part music festival, Part TED talk, part food fair." The event is similar to SXSW, but in a New York setting.
OZY Fest is where important conversations and newsmaking moments happen," Carlos Watson, OZY co-founder and CEO, said in a statement announcing Clinton's involvement. "People come to OZY Fest to experience unexpected perspectives. We're so proud to welcome two global changemakers in Secretary Clinton and Laurene Powell Jobs for an unprecedented exchange of ideas, and have no doubt this conversation will prove enlightening and inspiring for people in attendance and watching via live stream around the world."
Clinton may seem like a big get for the festival, but she's by no means the first political figure to headline the event. Past attendees have included Vice President Joe Biden and Dr. Jill Biden, will.i.am, Samantha Bee, Mark Cuban, Issa Rae, Jason Derulo, Katie Couric, Sen. Cory Booker, Jeb Bush, Eddie Huang.