Herman Cain says he's in on Stephen Colbert's S.C. primary prank, tells detractors to 'lighten up'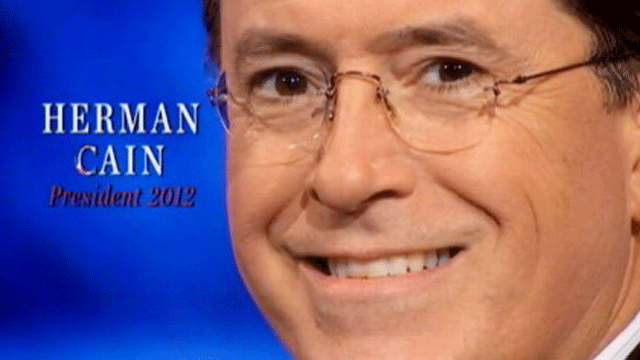 Last week, talk show host Stephen Colbert announced he was running in the GOP primary in South Carolina, and gave control of his very real Super PAC to fellow talk show host Jon Stewart.
Colbert then announced on his show Monday that he's unable to run as a candidate in South Carolina because the state does not allow write-ins in the primary. So he urged his supporters to instead vote for a surrogate candidate: Herman Cain. Why? Because though Cain is officially out of the race, his name remains on the ballot.
Tuesday, Stewart's pro-Colbert PAC released a commercial in South Carolina that urged voters to cast their ballot ... for Cain. None of this came as a shock to Cain, because the businessman is in on the joke.
"On Stephen Colbert's endorsement of himself as Herman Cain, I find it very clever and humorous, as it should be," Cain told Fox411. "Anyone who finds what Mr. Colbert is doing offensive, should simply lighten up. To be perfectly clear, I will not be assuming Stephen Colbert's identity. We are very different when it comes to the color of our – hair."
Kathy Hoekstra, Cain's Director of Media Relations, said they were given a heads up that something was happening a few days ago.
"Colbert's people got in touch with us late last week and Mr. Cain will be taping a segment with Mr. Colbert on Friday in South Carolina," Hoekstra laughed. "The endorsement of course comes as a pleasant surprise.
Colbert outlined his plan in detail on his Comedy Central show 'The Colbert Report.'
"Because Cain and I are so similar, I think that if this Saturday Herman Cain were to get a significant number of votes, that would be a sign that voters are hungry for a Stephen Colbert campaign," Colbert said. "Anyone who shares my values can show it by voting for Herman Cain. Independents, Democrats, college kids, viewers of my show, people who attended my rally, my Twitter followers, my good friends on Reddit. Young people of the Internet, stand up and shout! Because you are legally eligible to go down to the polls and tell the world how much you love Herman Cain."
Hoekstra told Fox411 that Cain, who has yet to endorse one of the remaining Republican candidates and is currently on a cross-country tour behaving as if he is still a candidate, is hoping to bring some much needed levity to the campaign trail.
"Mr. Cain did say that he thinks this campaign needs a sense of humor. When he was on 'Real Time With Bill Maher' they agreed that America needs to lighten up," Hoekstra said. "I know he is looking forward to meeting Mr. Colbert and recording a segment with Colbert."