Harrison Ford remembers Carrie Fisher during Mark Hamill's Walk of Fame star ceremony
Harrison Ford remembered Carrie Fisher during the Hollywood Walk of Fame star ceremony for friend and "Star Wars" co-star Mark Hamill.
The original Han Solo, along with their former director, George Lucas, praised Hamill before he was honored with the 2,630th star on Hollywood Boulevard's famous walk of fame.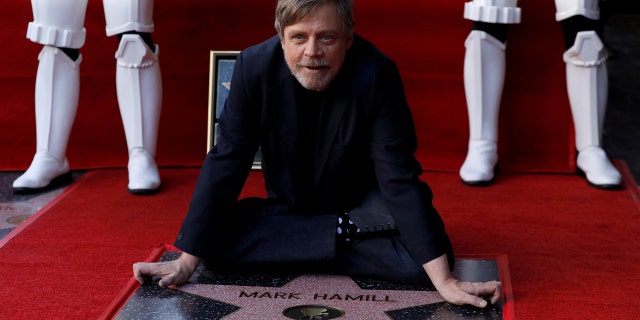 While speaking about Hamill, Ford took a moment to remember their recently departed Princess Leia costar, Fisher, who passed away in December 2016.
"When thinking about today, I was really sorry we don't have the other member of our trio to celebrate with us, but I feel her presence," Ford said.
Ford then complimented Hamill and said that he had been blown away by the actor's 1976 screen test for the movie and joked that he was" surprised by how good he was."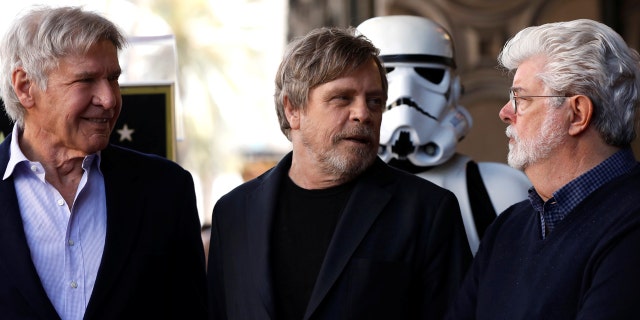 Lucas then added that Hamill was the number one choice to play the iconic role of Luke Skywalker from the first time they met.
"Mark Hamill is a character that can't be written," said Lucas. "He is extremity enthusiastic about everything he does, and that is exactly what I was looking for when I cast Luke Skywalker."
During his speech, Hamill thanked his "Star Wars" family and said of the moment that he was cast in the famous film franchise, "It's hard to convey my gratitude, my joy and the exhilaration,"  then added, "I haven't been speechless since Force Awakens."
The 66-year-old actor made headlines back in December after he revealed in an interview with Vanity Fair that he disagreed with his character's dialogue in the latest "Star Wars" franchise installment, "The Last Jedi."
"I, at one point, had to say to Rian, 'I pretty much fundamentally disagree with every choice you've made for this character. Now, having said that, I have gotten it off my chest, and my job now is to take what you've created and do my best to realize your vision,'" Hamill said.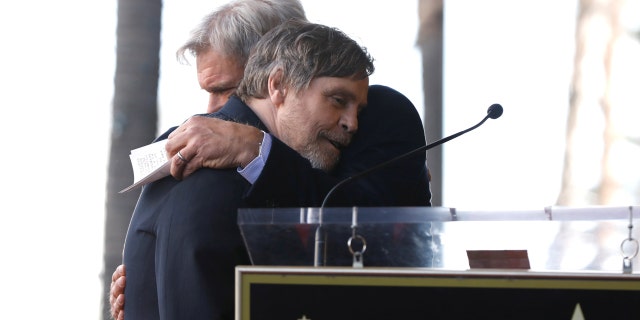 He later expressed his regret about criticizing director Rian Johnson's creative decisions regarding his iconic character.
"I regret voicing my doubts & insecurities in public," Hamill tweeted Tuesday. "Creative differences are a common element of any project but usually remain private. All I wanted was to make good movie. I got more than that – [Johnson] made an all-time GREAT one!"
Despite Hamill's initial reservations, the movie has grossed more than $790 million at the box office and has received rave reviews from critics.
Fox News' Kathleen Joyce contributed to this report.