Hank Williams, Jr. calls 'God and Guns' strong, not controversial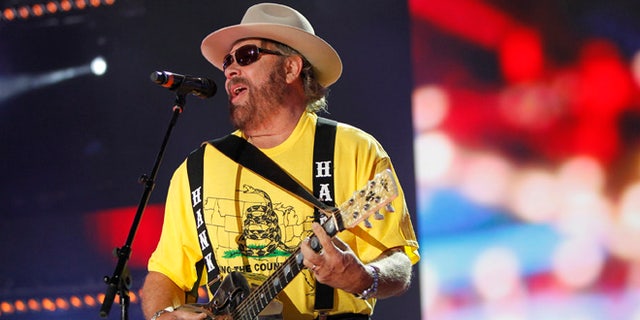 Hank Williams, Jr. is not afraid of controversy, but according to the artist, his new song "God and Guns" from his most recent record "Its About Time" doesn't fall into that category.
While many may consider the sentiments in the tune envelope-pushing in todays climate, Williams doesn't see it that way. In fact, he says it reminds him of a song hes released in the past."In my world its not controversial. Its pretty strong, he says via Big Machine. "It reminds you of Country Boy Can Survive. Very slow, low notes, big rockin build up."
Click here to subscribe to FOX411's YouTube channel
Though he didn't write it himself, Williams says the song fits him perfectly.
"I thought, 'Wow, it sounds like I wrote it.' Its got Hank Jr. all over it, he notes.
Originally performed by Lynyrd Skynyrd, the song is an anthem about the importance of keeping God and guns in American society and fighting for those elements against politicians who disagree.
"God and guns keep us strong, the song goes. We might as well give up and run/If we let 'em take our God and guns/That ain't gonna happen."
Its definitely a strongly-worded tune, but not surprising for the artist, who is known for his outspokenness and sharing what he thinks without apology, even when it comes to politics. He recently spoke out about the 2016 election, saying he doesnt give a s" about it compared to his album release.
Williams has also not held back on his views about todays country music landscape, weighing in on its"weird pop-country sound in the title track from "It's About Time."
The record also includes a collaboration with Eric Church on Are You Ready for the Country? for which the duo filmed an epic music video together. They also opened last years CMA Awards with the song. Williams and Chris Stapleton are headed out on what is sure to be an impressive co-headlining summer tour in August.