'Hamilton' cast performs for George H.W. Bush
Former President George H.W. Bush snagged a private performance Tuesday from the cast and crew of the popular musical, "Hamilton," who paid him a visit in Texas.
Bush shared photos on social media of the "HamFam" at his Houston-based office, including one smiling group shot with the 93-year-old. Another showed him listening as the Broadway performers appeared to belt out a song.
FORMER PRESIDENT GEORGE H.W. BUSH RELEASED FROM HOSPITAL, SPOKESMAN SAYS
"A complete joy to welcome the 'HamFam' — the cast and crew of @HamiltonMusical — to our Houston office for a special performance I will never forget," Bush tweeted. "History never sounded so powerful."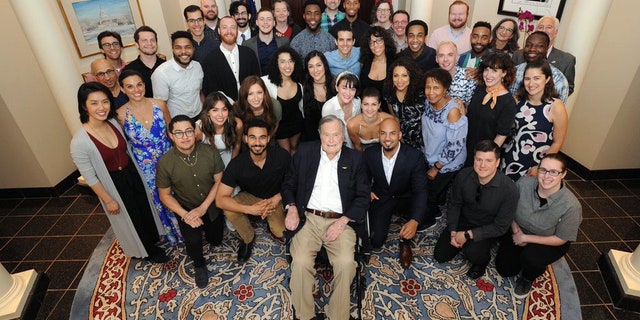 The visit came after the 41st U.S. president was released from the hospital earlier this month after contracting "an infection that spread to his blood," according to his spokesman.
BARBARA BUSH'S 'HEROIC ACT' SAVED MY LIFE NEARLY 60 YEARS AGO, TEXAS WOMAN SAYS
"President @GeorgeHWBush was discharged from @MethodistHosp after treatment for an infection," a previous tweet from spokesman Jim McGrath said. "His doctors report he is doing well and is happy to return home."
Bush was admitted to Houston Methodist Hospital on April 22, one day after the funeral of his wife, former first lady Barbara Bush. She died  April 17 at age 92.