'Halloween,' 'A Star is Born' and 'Venom' break October box office record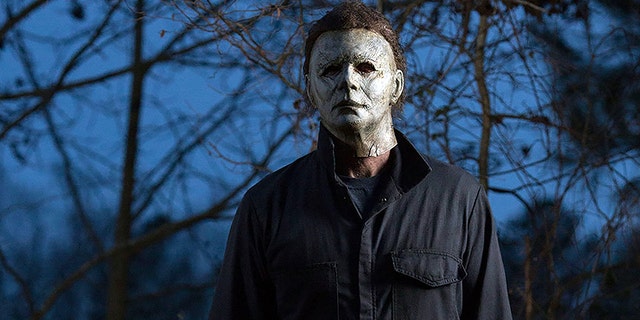 Michael Meyers — or is it Jamie Lee Curtis? — can't be stopped. "Halloween" dominated the North American box office for the second straight weekend, carving up an estimated $32 million in ticket sales.
The top four films were all unchanged at the North American box office, according to Sunday estimates, as Hollywood left "Halloween" to dominate the pre-trick-or-treating weekend. The sequel to John Carpenter's 1978 original, starring the 59-year-old Curtis as Laurie Strode, last week notched the biggest opening ever for a film with a female lead older than 55.
The Blumhouse Productions film, distributed by Universal Pictures, is already one of the highest grossing slasher films ever, with $126.7 million in ticket sales (plus another $45.6 million international) on just a $10 million budget. "Halloween," directed by David Gordon Green, slid a relatively modest 58 percent — especially good for a horror release — after setting a record for an October debut last weekend.
Bradley Cooper's lauded "A Star Is Born" remained in second place with $14 million in its fourth weekend. The film, starring Cooper and Lady Gaga, has thus far grossed $148.7 million domestically, while proving an equally strong seller overseas for Warner Bros. It's made $104.6 million internationally.
Sony's superhero spinoff "Venom" also stuck in third with $10.8 million in its fourth weekend. The comic-book adaptation, starring Tom Hardy, has grossed $504.8 million worldwide.
That trio of "Halloween," ''Venom" and "A Star Is Born" has driven the October box office to a new high. With a few days to go, monthly ticket sales have already surpassed the record of $757.1 million from 2014, according to comScore, with $789.9 million in sales in October — traditionally a fairly sleepy month in movie theaters.
The submarine thriller "Hunter Killer," was deep-sixed with $6.7 million. The Lionsgate release and Millennium production, stars Gerard Butler, Gary Oldman and Common. Like previous Butler-led action films like "Den of Thieves," ''Geostorm," ''London Has Fallen" and "Gods of Egypt," ''Hunter Killer" received poor reviews (36 percent "fresh" on Rotten Tomatoes). But those films also fared far better abroad than in the U.S., something "Hunter Killer" will hope to repeat.
Other films in nationwide release also struggled to come anywhere close to the strong holdovers.
After a promising limited release last weekend, Jonah Hill's directorial debut, the coming-of-age skateboarding drama "Mid90s," took in a mediocre $3 million 1,206 theaters for A24. Pure Flix's Christian war film drama "Indivisible" took in $1.6 million on 830 screens.
"Johnny English Strikes Again," the third film in the 15-year-old Rowan Atkinson comedy franchise, opened with a mere $1.6 million, though it, too, was designed with more of an international focus. (It's already earned $107.7 million overseas.)
One new bright spot was Luca Guadagnino's remake of the horror classic "Suspiria." Opening in just two theaters, it debuted with a very strong per-screen average of $89,903 for Amazon Studios, a good start for Guadagnino's follow-up to the Oscar-winning "Call Me By Your Name." His "Suspiria" has been somewhat divisive among critics (69 percent "fresh" on Rotten Tomatoes).
Estimated ticket sales for Friday through Sunday at U.S. and Canadian theaters, according to comScore. Where available, the latest international numbers for Friday through Sunday also are included. Final domestic figures will be released Monday.
1. "Halloween," $32 million.
2. "A Star Is Born," $14.1 million.
3. "Venom," $10.8 million.
4. "Goosebumps 2," $7.5 million.
4. "Hunter Killer," $6.7 million.
6. "The Hate U Give," $5.1 million.
7. "First Man," $4.9 million.
8. "Smallfoot," $4.8 million.
9. "Night School," $3.3 million.
10. "Mid90s," $3 million.