Gwen Stefani says Blake Shelton's ex had her face 'plastered over her whole bedroom'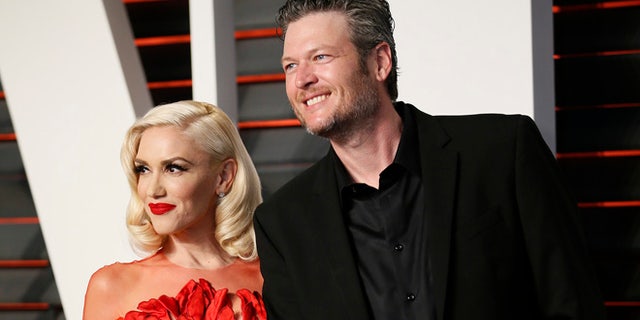 NEWYou can now listen to Fox News articles!
Gwen Stefani's biggest fan might have been one of Blake Shelton's ex-girlfriends!
The 48-year-old No Doubt front woman opened up about how her and boyfriend Shelton come different musical pasts, though they do have one thing in common.
"He did tell me that he dated a girl for like three months who had my face all plastered over her whole bedroom," Stefani shared while on "Jimmy Kimmel Live" on Wednesday. "So that's kind of weird, right?"
Blake Shelton Admits He 'Thinks About' Marrying Gwen Stefani
Host Kimmel then suggested that Stefani find photos of Shelton's ex to plaster all over her room.
"Oh my god, that's so gross," she replied, laughing.
The "Hollaback Girl" singer also noted that she'd previously made Shelton an introduction to ska and reggae music playlist, but added, "We just don't listen to it that often."
Blake Shelton and Gwen Stefani Perform a No Doubt Song Together at ACM Awards After Party
"Blake is like a musical juke box, and he knows so much music," Stefani gushed over her guy. "And I think the one place we cross over is that whole, like, yacht rock '70s love songs. When I was like 'Yeah, Bread is one of my favorite groups ever,' he'd be like, 'What?! I thought you were like a rock/ska girl.' [Actually] he didn't even know what ska [was]."
Stefani also faced off in a trivia game about her life against one of her super fans. In the game, a throwback photo of Stefani was thrown up on a screen, to which she exclaimed, "I just think that me and Blake were always meant to be together because look, I have a little mullet."
Luke Bryan Jokes Blake Shelton Should Marry Gwen Stefani 'Before She Goes to an Optometrist'