Guy Fieri: Grilling with Beer!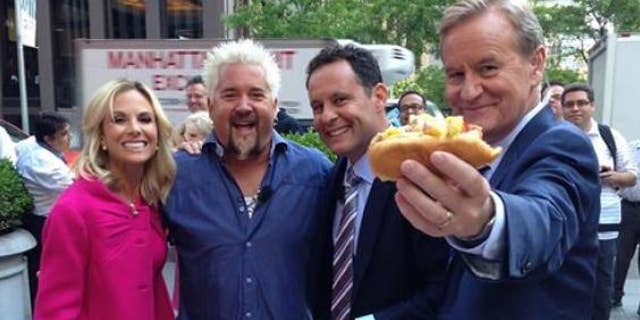 "DANGER DOG"
JALAPENO STUFFED HOT DOGS WRAPPED IN BACON
Recipe courtesy Guy Fieri
Prep Time: 15 minutes | Total Time: 1 hour 15 minutes | Yield: serves 4
Hot Dogs:
4 hot dogs
4 slices apple wood smoked bacon
4 seeded hot dog buns
8 pickled jalapeno round slices, drained
Fruit Relish:
½ cup pickle relish
1 medium red jalapeno, seeded and finely diced
1/2 pineapple, peeled, cored and quartered
1 mango, peeled and cored
½ red onion, minced
1 tablespoon olive oil
¼ lime, juiced
Kosher salt, to taste
Freshly ground black pepper, to taste
Beer mustard sauce:
2 tablespoons brown mustard seeds
1 (12oz) can Miller Lite Beer
¼ cup Dijon mustard
2 tablespoons apple cider vinegar
1-2 dashes hot sauce
Kosher salt and freshly ground black pepper
Prepare the Mustard: In a small saucepan, bring the mustard seeds and beer to a simmer. Cook until the mustard seeds are tender and the liquid has reduced by ½ - about 20 minutes. Remove from the heat and stir in the Dijon mustard, apple cider vinegar, hot sauce and salt and pepper to taste.
Make the Fruit Relish: Preheat the grill to medium-high heat. Grill the pineapple and mango until caramelized about 3 minutes per side. Remove from the grill and let rest until cool enough to handle. Cut the fruit into ½ by ½ inch cubes. Combine the pineapple and mango with the remaining ingredients and season with salt and pepper. Set aside in the refrigerator until ready to use.
Prepare the Hot Dogs: Preheat the grill to medium heat. Grill the bacon slices slightly for about 1 to 2 minutes just to render some of the fat. Drain on a paper towel until ready to use. Using a sharp knife, make a cut lengthwise down the center of the hot dog. Cut the pickled jalapeno rounds so that they are 1 long strip. Place 2 slices of jalapeno inside the hot dog. Close the hot dog and wrap tightly with the bacon, using toothpicks to secure each end.
Grill the Hot Dogs: Brush the grill lightly with canola oil to prevent the hot dogs from sticking. Grill the hot dogs until the bacon is crisp and cooked through, rotating often to ensure even cooking – about 8 to 10 minutes.
To Assemble: Split the buns and toast the inside – about 2 minutes. Turn them over and toast on the outside, another 2 minutes. Remove the toothpicks from the hot dogs and place inside the toasted buns. Top with the beer mustard and fruit relish.