Georgia officials raid Gladys Knight's Chicken and Waffles restaurants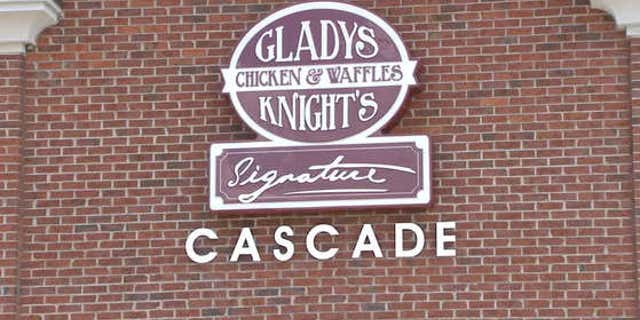 Authorities in Georgia raided two of Gladys Knight's Chicken and Waffles restaurants and its headquarters Tuesday.
WSB-TV reported that Knight's son, Shanga Hankerson, runs the restaurant and is at the center of an investigation involving about $1 million.
Georgia Department of Revenue Special Investigations Chief Jeff Mitchell told the station that investigation solely surrounds Hankerson and not Knight. Mitchell said she's "totally in the clear."
Mitchell said neither Knight nor any other restaurant employees are facing criminal charges. A warrant for Hankerson's arrest charges him with multiple felonies, but not all the money is involved in the warrants.
"Shanga's accused of stealing over 650,000 in both sales and withholding tax," Josh Waites, a special investigator, told WSB-TV. "(With) penalties and interest, it's up to over $1 million owed."
Waites said the raids in search of tax records cap off years of efforts trying to collect money paid by customers for sales tax or withheld from the employees.
Officials tried unsuccessfully to arrest Hankerson.
The station reported that Clayton County District Attorney's Office has filed a civil anti-racketeering lawsuit to seize assets to recoup the owed taxes. District Attorney Tracy Graham Lawson said one of Knight's signature restaurants has a location in Clayton County.
Waites said state officials are working with Hankerson's attorney "to have the businesses up and running again as soon as possible."
TMZ reported that employees were told to leave the restaurant before officials removed computers, filed and contents from safes.
A spokesman for Knight said in a statement to Fox 5 Atlanta that Knight wasn't involved in any way with the restaurants' operations.
"Gladys Knight lent her name to her son's restaurants in the Atlanta area, similar to a celebrity endorsement," the statement read. "Ms. Knight was not involved in any way with the operation of the restaurants and she is sure that her son and his business partners will rectify the situation. As always, her main concern is for her family's well-being and she is making sure the family has the guidance they need to assess the situation and move forward."
The Associated Press contributed to this report.