George Zimmerman To Fight Rapper DMX In Three-Round 'Celebrity Boxing Match'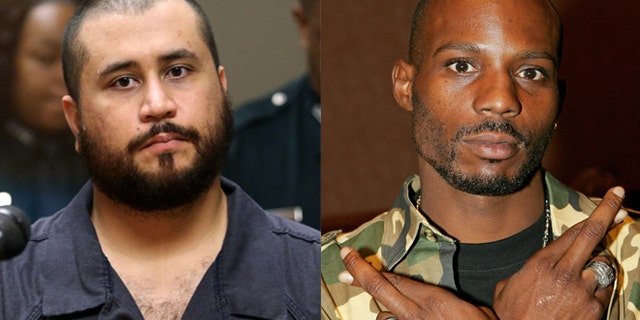 Rapper DMX would like nothing better than to stop, drop, and shut George Zimmerman down — and now he'll have his chance.
The 43-year-old Ruff Ryder has been chosen out of 15,000 applicants to fight Zimmerman in an upcoming "celebrity match," according to TMZ. The former neighborhood watchman was acquitted for murder last July after shooting and killing 17-year-old Trayvon Martin in February 2012.
"I am going to beat the living f*** out him … I am breaking every rule in boxing to make sure I f*** him right up," DMX reportedly said to the celebrity gossip website when asked about the chance to fight Zimmerman.
He then said he would urinate on Zimmerman's face.
The boxing match will be three rounds and further details on the match will be announced at a news conference next Wednesday.
Celebrity boxing promoter Damon Feldman offered Zimmerman money to fight and he agreed without having an opponent selected.
"It was my idea," Zimmerman, 30, told RadarOnline.com."I was actually going to the gym for weight loss and doing boxing-type training for weight loss."
Zimmerman said the opportunity will help motivate him to get back in shape, continue his weight loss and also help out a charity.
A portion of the proceeds from the celebrity bout, he said, will go to an unspecified animal rescue.
On Monday Zimmerman said he wanted to fight Kanye West because of the rapper's reputation for attacking "defenseless people."
Since being acquitted, Zimmerman has been arrested on domestic violence charges, which were later dropped, and has made money by selling paintings, most notably, a painting he sold on eBay with a winning bid of $100,099.99.
Follow us on twitter.com/foxnewslatino
Like us at facebook.com/foxnewslatino