George Strait takes top honor at CMA Awards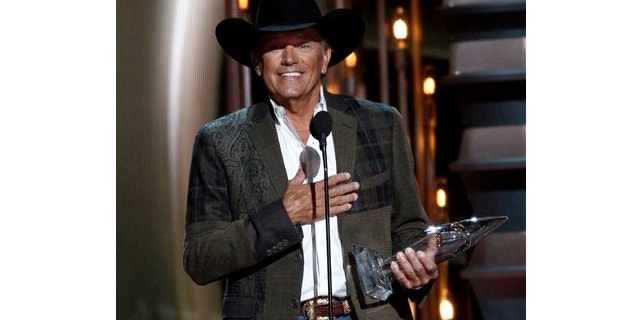 NASHVILLE, Tenn. – The Country Music Association Awards paid tribute to the past, present and future, giving George Strait his third entertainer of the year trophy on Wednesday while also awarding a quartet of 20-somethings who are helping to stretch the ever-fluid boundaries of the country music genre.
Strait won the CMA's top honor for the first time since 1990 in something of a victory lap as he launches the final leg of his The Cowboy Rides Away tour -- his goodbye to touring. Taylor Swift, Florida Georgia Line and Kacey Musgraves were among the top winners, as were husband and wife Blake Shelton and Miranda Lambert.
"This blows me away," the 61-year-old legend, whose competition included Swift and Shelton, told the audience after a standing ovation. "I just cannot believe it. You guys that are nominated are such powerful entertainers. I'm just thrilled to even be nominated again."
He later joked backstage, "The cowboy might be riding in again."
Swift won two trophies for her "Highway Don't Care" collaboration with Tim McGraw and Keith Urban. Shelton also won two awards, including the prestigious album of the year for "Based on a True Story ..." and male vocalist of the year for the fourth time, matching Lambert, who won her fourth female vocalist of the year award.
Shelton and Lambert have been favorites for the last three years and Wednesday was no different. One or the other has been among top winners at the awards the last three years.
"We have been at the bottom before," Shelton said of a lull that nearly sank his career. "And somehow dug our way out and I'm up here talking about this."
Florida Georgia Line's Tyler Hubbard and Brian Kelley scored single and vocal duo of the year. Their quick tally was more proof the so-called bro country movement is the sound of the moment in mainstream country. FGL kicked off the show performing a fist-pumping medley with Luke Bryan, and very quickly returned to the stage to take the trophy for single of the year for their "Cruise" remix featuring Nelly. They also played the new song "Round Here."
"It's been a constant thing all year -- we've been trying to wrap our minds around what's going on," Hubbard said backstage. "It's been a dream come true for us and a huge blessing for us and something we could have never imagined."
Musgraves -- who, along with Swift, led all nominees with six -- won the new artist trophy, besting a field that included Florida Georgia Line. With smart songwriting, a progressive bent and a strong sense of self like country's other top women, Musgraves made an auspicious mainstream country debut this year with her album "Same Trailer Different Park." She attended with her grandmother.
"It's amazing what 52 weeks can do to a person," Musgraves said. "... Last year I had really crappy seats. You know, I was just sitting back with my roommate just as a fan. And here I am holding this thing."
Lee Brice's "I'd Drive Your Truck," about a fallen soldier whose father still drives his truck, won song of the year, and Little Big Town took its second straight vocal group of the year.
Swift, who performed a somber, acoustic version of her hit "Red" with Vince Gill, Alison Krauss and Sam Bush, was given the CMA's Pinnacle Award. The award goes to artists who take country music to a worldwide audience. Garth Brooks is the only previous winner in 2005.
The CMA brought a star-studded welcoming group out on stage for Swift that included Strait, Rascal Flatts, McGraw and Faith Hill, Urban and Brad Paisley -- all of whom gave Swift a chance to open for them on the road a teenager. A video salute followed with appearances by Justin Timberlake, Julia Roberts, Carly Simon, Ethel Kennedy and Mick Jagger -- whose appearance made Swift shout.
Swift recounted a call she got out of the blue from her Big Machine Records head Scott Borchetta when she was 16.
"He said, `Can you be on the road in two days to open for Rascal Flatts,' and I immediately started screaming and said, `This must be a miracle,"' she said. "He said, `No, it's not a miracle. Eric Church got fired for playing too long."
She added: "You've made me feel so special right now, thank you."
Hosts Carrie Underwood and Paisley got the show going on a jovial note as they took the stage with their opening skit, joking about Julianne Hough's misguided blackface Halloween costume, skewering Obamacare to a Nashville audience that roared with approval and a parody of Robin Thicke's "Blurred Lines," with members of "Duck Dynasty."
Collaboration was the theme of the night as Strait and Alan Jackson joined together to salute the late George Jones with a rendition of "She Stopped Loving Him Today." Hunter Hayes and Jason Mraz took a tour of the Bridgestone Arena while performing "Everybody's Got Somebody But Me." And Zac Brown and his band joined in on a growing hard-rock trend icountry as Foo Fighter Dave Grohl joined the band on drums for new song high-powered "Day for the Dead." Church earlier turned things up to 11 with his new song "The Outsiders."
And in one of the night's most anticipated moments, Kenny Rogers received the CMA's Willie Nelson lifetime achievement award and was saluted by Jennifer Nettles, Rucker and Rascal Flatts. Rogers sat on stage and mouthed along until he and Nettles finished the tribute by singing "Islands in the Stream."
"It's been a hell of a month," Rogers said. "The (Country Music) Hall of Fame last week, this this week. I can't wait to see what's coming next week."