George Clooney's scary motorbike accident caught on surveillance video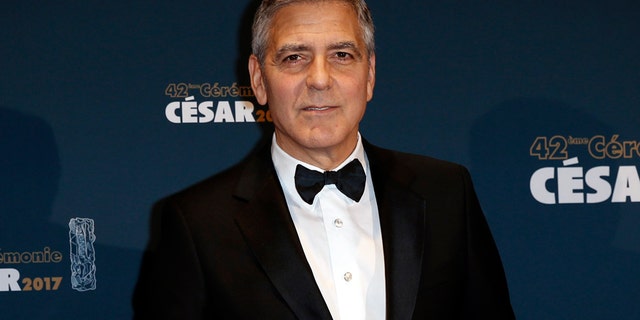 Video footage of actor George Clooney's accident on a motorbike has been released showing the exact moment the star impacted another car and was sent flying into the air.
Surveillance video from a nearby camera captured the moment and was then obtained by Italian newspaper Corriere Della Sera. In it, Clooney can be seen hitting a dark-colored vehicle head-on during his morning commute while traveling down a highway on the island of Sardinia. He flies high above the car before crashing down to the pavement on the driver's side.
As previously reported, he was taken to the hospital in Olbia where he was released shortly after. Officials said that his injuries were not believed to be serious.
"George Clooney was treated and released from an Olbia hospital. He is recovering at his home and will be fine," a rep for the actor told Fox News.
Fortunately, it seems like the incident won't affect the star's ability to shoot his new "Catch-22" series.
It's not the first time the "Up in the Air" actor had been injured in a motorbike accident.
Clooney suffered a broken rib when he crashed riding with his then-girlfriend Sarah Larson in New Jersey in 2007. Larson suffered a broken foot.
The Associated Press contributed to this report.