George Christy Goes Inside the LACMA Gala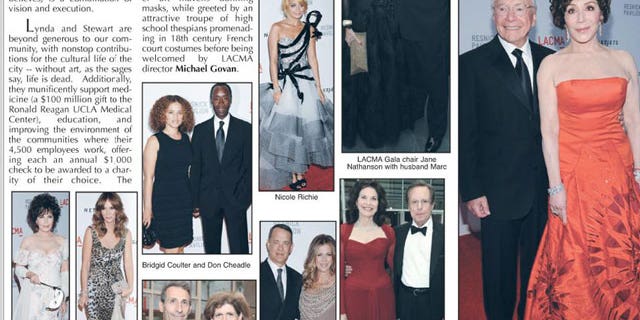 Five million bucks ain't chump change. It's unrivaled for an arts fundraiser in Los Angeles.
Jane Nathanson, who chaired the LACMA Gala, announced this astonishing tally during the black-tie dinner at LACMA, with the high-in-glamour evening honoring benefactors Lynda and Stewart Resnick.
They have donated $45 million toward the $53 million Lynda and Stewart Resnick Exhibition Pavilion. Designed by Renzo Piano, the Pavilion opens doors to the public this weekend, with free attendance on Oct. 2nd and 3rd. On view are exhibitions from the Resnick Collection, masterworks from ancient Mexico, and European dress from 1700-1915, which LA Times art critic Christopher Knight envisions as "a crowd pleaser."
We detailed the Resnicks' stunning business successes in last week's column, available online at bhcourier.com that receives 4 million hits monthly! Lynda's a Philadelphian and Stewart's a New Jerseyite, who washed windows to make ends meet when he arrived on the West Coast.
"Los Angeles and California afforded me golden opportunities – fitting for a Golden State," Stewart says.
Leadership, he believes, is a combination of vision and execution.
Click here to read George Christy's full column.