"Gentle Giant" Jermaine Jones Gets Kicked Off American Idol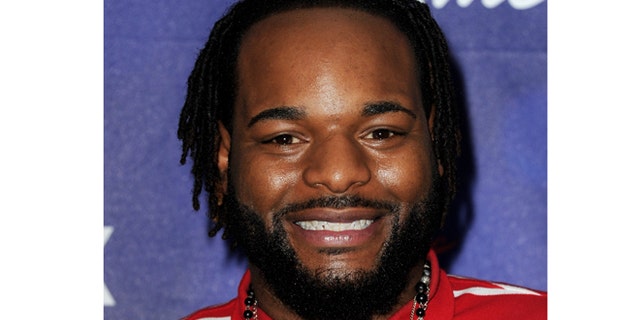 Even JLO couldn't save Jermaine Jones this time.
After his triumphant return to "American Idol" in which the "Gentle Giant" was brought back after being eliminated from the top 24, Jones is exiting the show for the final time—but not because he lost America's vote.
As reported by TMZ, Jones will be kicked off "American Idol" Wednesday night following new information that has surfaced about his criminal past.
The show's producers have apparently learned that Jones was arrested twice last year and has outstanding warrants for his arrest.
The producers first discovered the information on Tuesday and subsequently questioned Jones about the issue on camera.
The reports claim that Jones lied about his criminal history involving acts of violence and using fake names when he was arrested.
American Idol Top 10 Latino Moments
A source for the singing competition told TMZ that Jones will make his final appearance on the show Wednesday night before he is sent home.
Wetpaint.com reported that shortly after the news broke Jones tweeted, ""Awww I will no longer be on the show."
Just a few days ago, TMZ also found out that Jones had lied to producers about his father abandoning him 10 years ago.
When TMZ spoke with Jones' father, he said these claims were entirely false and that he saw his son regularly.
This was the apparent smoking gun that caused the producers to dig deeper into Jones' past.
American Idol: Jennifer Lopez Tears Up, Again; Reveals Surprise Twist
Early on in the season, Jones caught judge Jennifer Lopez's attention.
During Jones' first audition, Lopez felt the Lord's spirit as the 6 foot 8 ½ inches Jones stood out right away, not only for his height, but for what Steven Tyler called his "spiritual voice."
"It's a natural gift that you have in the way that you sing that you don't hear every day," said Lopez satisfied with Jones' audition.
Unfortunately, Jones had a breakdown minutes before being told he would not make a part of the top 24.
Are JLO & Casper Getting Married? Unphotoshopped Bikini Pics Leaked
"It's mind bottling," Jones said crying. "I've seen so many people go home. I don't want to be a disappointment to my family… my momma."
"You had some real shining moments," Lopez told Jones. "It was a joy to watch you."
"We're going to miss you," she continued. "You did such a good job and you got so far," she added before wiping off the tears from her eyes.
The guilt might have been too much to bare for Lopez. Not long after sending Jones and Leathers packing, "American Idol" host Ryan Seacrest announced that Jones would be brought back after being eliminated and given a second chance.
"I was very grateful and excited," Jones said about learning the show wanted him back in the competition. "The neighbors probably heard me and my momma screaming."
You can reach Kacy Capobres at: KacyJayne@gmail.com or via Twitter: @KacyJayne
Follow us on twitter.com/foxnewslatino
Like us at facebook.com/foxnewslatino