Former 'Bachelorette' Desiree Hartsock talks wedding plans, new bridal line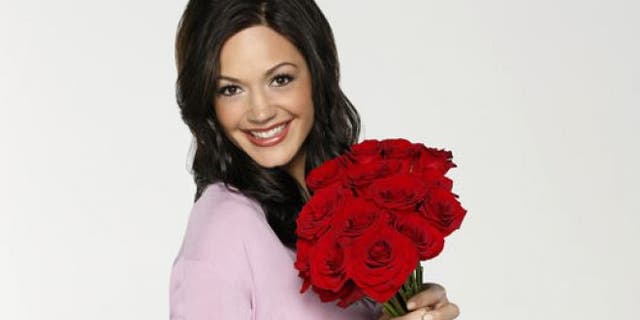 NEWYou can now listen to Fox News articles!
Former "Bachelorette" Desiree Hartsock is planning on getting married to the love of her life in January, but whether or not it will be on TV like the ceremonies of past "Bachelor" couples remains a mystery.
"We are open to having it televised," Desiree told Fox411. "We'll see what happens there."
In an August 2013 season finale in Antigua, former professional baseball player Chris Siegfried got down on one knee and proposed to an emotional Desiree.
"I'm thankful that we were able to create all of those memories," Chris told Desiree at the time. "I want to spend the rest of my life with you. I want to be that rock that doesn't break for you."
"You have been by my side from the very beginning -- for that am I so grateful," Desiree said. "You mean the absolute world. Chris, I love you. I love you so much."
The couple currently lives in Seattle.
"It's been great," Desiree said of last year's move. "Chris is good. It's been nice because he's kind of new to Seattle, too."
Desiree said the two have been exploring the city together.
The Bachelorette said she and Chris decided on a January wedding after originally intending to get married this December.
"We wanted to get married this year, but this whole year has been so busy with other people's weddings," she said.
Desiree said some of the plans have been ironed out but could not give too much away.
"I have worked out some details, but I can't share them," she told Fox411, but confirmed the wedding will take place in California.
As for her wedding gown, Desiree won't have to go too far.
She has worked in bridal design for years, but her big break came shortly after "The Bachelorette" when she was approached to do a line with designer Maggie Sottero. She unveiled her new line at a big show in California in August.
Desiree will be designing her own wedding dress and reception dress.
"They are both very different from each other and also very me," she said. "The ceremony dress will be more romantic and the reception dress will be easier to dance in."
After the wedding, lookalikes of both gowns will be available online.
The Bachelorette is also launching a jewelry line in October for bridal gowns and evening wear.
Although busy with her career, Desiree hasn't forgotten her roots.
She appeared on the finale of "Bachelor in Paradise" last week to offer advice to the remaining couples.
"I love both [of the couples] so much," Desiree said of Michelle Money and Cody Sattler, and newly engaged Marcus Grodd and Lacy Faddoul.
"I could tell even before Michelle let us know how she was feeling [about Cody.]" she said. "I could tell that she did see a future with him.
"She was just thinking about it and she was her own worst enemy," Desiree said about Michelle appearing to waffle on her decision to commit to Cody. "I think they're both good together."
As for the overly affectionate Marcus and Lacy?
"It was just obvious," Desiree said laughing.
Desiree also applauded "Bachelorette" Andi Dorfman's decision to pick Josh Murray during the season finale this summer.
"They look like they just go together," she said. "I think she loved him from the start."
Desiree said she and Chris "try to stay in the loop" with current "Bachelor" news and watch as many episodes as they can, despite busy schedules.
They plan to tune in to Chris Soules' season of "The Bachelor" in January.
Chris Soules was a fan favorite during Andi's season, but his plan to stay in Iowa to work at his family's farm and his opposition to move to another city seemed to be deal breakers.
"I think it will be interesting because of him being a farmer," she said.
Desiree's bridal line can be seen here.