'Fixer Upper' stars Chip and Joanna Gaines host church services at Magnolia Silos
The stars of TV's "Fixer Upper" welcomed on Sunday about 200 members of Church Under the Bridge for outdoor services on the lawn of the couple's Magnolia Market at the Silos in Waco, Texas, amid expansion of nearby Interstate 35.
Church Under the Bridge Pastor Jimmy Dorrell called Chip and Joanna Gaines to the stage to thank the family for sharing the space during the $300 million interstate widening project, the Associated Press reported.
Church Under the Bridge meets under an I-35 span.
'FIXER UPPER' STAR JOANNA GAINES TO HELP JENNIFER LOPEZ DECORATE HOME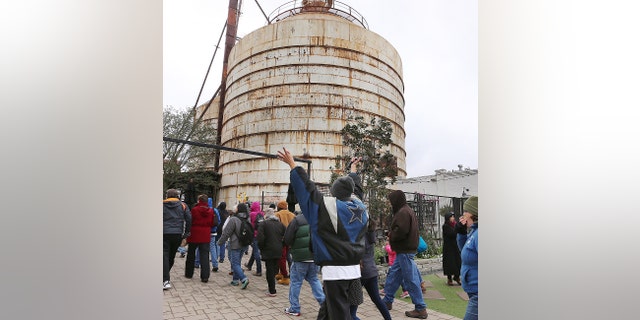 The congregation sought out another site during highway construction when Chip Gaines offered the Silos' lawn for a year, at no charge.
The church's website now welcomes all to "Church Under the Bridge at the Silos."
Joanna Gaines in particular has been open about how her faith has helped her in her day to day life.
'FIXER UPPER' STARS CHIP AND JOANNA GAINES TALK FAITH AND FAME
"I had to learn that this whole God thing isn't just this big religion. It's really that He wants this relationship with us on a personal level," she said in  2016. "Even today with the opportunities that are coming our way… I need His guidance. Otherwise I'd say yes to everything."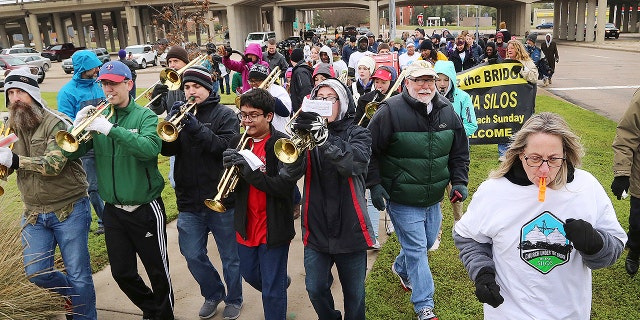 CHIP GAINES OF 'FIXER UPPER': 'MY FAITH CHANGED EVERYTHING'
Chip added, "Without God, for me, I'm not the best version of myself."
CLICK HERE TO GET THE FOX NEWS APP
Despite their devoutness, Chip says he and Joanna "try not to rub it in anybody's face. I'm not real boisterous about it but people seem to find out about it just through the way that Jo and I live our lives, and we're proud of that."
The Associated Press contributed to this report.